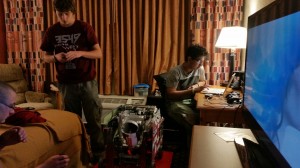 Mount Vernon's team 3549, Born To Be Wired!, competed yesterday  at the Iowa Events Center in Des Moines. After 6 matches, was 4 – 2 and in 10 place out of the 32 teams in their diviision. SaturdaySchedule:
Qualification matches begin:    9:00 am
Alliance selection: 10:30
Semi-final matches 11:30
Final matches: 1:30
Finals 3:00
Event Live Stream
The links below, if working, will stream the matches live. Mount Vernon's team 3549 is in the Tinker Division. However, if they make it to the finals, it may be shown on the Smith link.