Robotics Recap By Jillian McGuire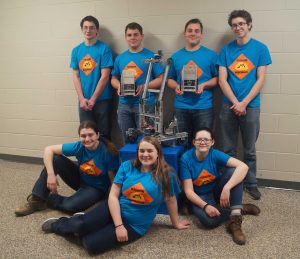 By Jillian McGuire
Mount Vernon High School's robotics team had a very successful season. The kids involved were separated into three teams. Each team had a different name and a different focus.
The team Percussive Maintenance qualified for the Vex 2018 Heartland Regional Robotics Championship in Stromsburg, Nebraska. The team was invited to regionals but did not attend. In Vex Robotics High schools from both Nebraska, and Iowa combine their championships into a single Regional Championship tournament.
This team focused on building a robot. The robot was consistently reliable, at performing the tasks. The tasks and the main goal of the three teams were to have each team's robot pick up cones. "Not many things will compare to the feeling of finishing that robot, and watching it do well at competitions," said freshman Brooke Miller.
The team's score based on how many cones they can pick up were given. "I thought the most challenging part of building the robot was if you make even one little mistake, you most likely will have to start over so being careful was hard for me," said Junior Becky Fishbein.