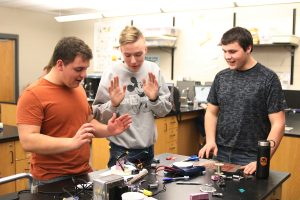 By Josh Jordan
In Spring 2018 there are so many things to look forward to whether that is in sports, clubs, or even classes.
In archery Senior Brandon Lochner feels this upcoming season has potential. Lochner said, "They show potential. We have several good shooters, who are willing to work hard, but to win a state title we need 12 good shooters." If our team put lots of hard work and effort into archery this new year, then there will be a good chance that we will be able to at least place at state, if not win a state title. This would be even better than last year when they placed second at state.
In extracurricular activities, such as robotics and science olympiad, senior Derk Keller feels that "We [Robotics team] probably won't go very far this year… while we have done other programs this is our first year participating in VEX." It will be interesting to see how far we can get in robotics this year, and we can look forward to how next year's teams do when they will be more prepared. VEX is a new program that our robotics team switched to because it was more cost effective and it was easier than the previous tournament they were apart of, known as the FTC. The goal of VEX is to help encourage students to pursue any job in the STEM (Science, Technology, Engineering, and Mathematics) career field.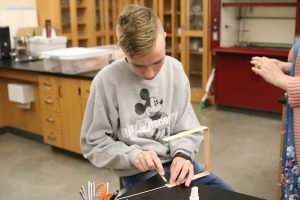 In science olympiad they hope to make it far this year, because they were state champs last year. Each person has their own way of practicing for their 20 events whether it is studying for their event, or building structures. For the most part, studying makes up a major of the practices, but there are some other events that involve building. One of these events is the tower. The team has to build a strong tower, and the tower that holds the most weight wins. It will be fun to see how far they can get, especially since they have been preparing so intensely.
When it comes to Speech our team has lots of potential. In group speech Mat Zobac said "…ensemble will do good, it is funny and entertaining". This turned out to be true last weekend with some of our big speech teams going to all state. Last year alone we had eight teams go to all state, which was more than Kennedy High School. Seniors Mat Zobac and Zack Vig were also the first mime team to go to state in many years last year.
In individual speech it also seems like they will do well this year. Senior Zack Vig said "I am looking forward to individual speech this year because it is our biggest speech team ever." It will be interesting to see how Vig does especially since he is apart of a new event that he has never done before.
The goal of the speech teams is to " go to all state and continuously get better as actors, is what Grant tells us." Said Zobac. Their personal goal is to get a banner, which is an award given to the best teams. This year they have been practicing blocking, memorizing lines, and running through what they will be doing. With all of this practicing it will be interesting to see how well they will do this Saturday.
Overall we have a lot of cool things to look forward to, whether that be sports or other outside activities. Hopefully our teams will put in the time and effort that they always do, and be able to achieve some great titles this year. GO MUSTANGS!