2019 Speech Season Kicks Off
Topping out at 102 students, the 2019-2020 Mount Vernon speech team is the largest squad in the school's history. The 36 groups that are planning to compete this year are being led by staff coaches Grant Freeman, Tawnua Tenley, and Leigh Ann Erickson. With volunteer coaches include Amy White and Braden Rood, and student coaches are Lillie Hawker, Isabelle Krapfl, Cate Morgan, Aubrey Frey, Kode Banwart, Jack Ossenkop, and Ellie Crock.
Groups were assigned and released to students on Monday, Oct. 14, and practices began the week of Oct. 27.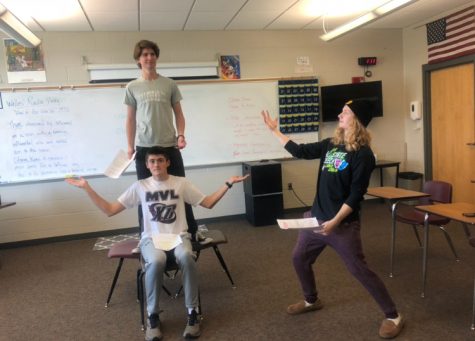 Senior Annie Leopold is starting her first year in speech, participating in a large group performance of Antigone. "I've heard a lot of good things about the program." Leopold said. "I was drawn to the program because it gave me the ability to freely express myself," she added.
Student coach Cate Morgan is excited for this upcoming season, and has high hopes for the large group to make it to all-state. Participating in choral reading for the past three years, Morgan, a senior, has seen speech as a way to relieve stress and build new friendships. "It's helped me become more confident," Morgan said. She added, "I have high hopes that the incoming freshman will be inspired by the new members this year and join this amazing program." 
As the season rolls out, there will be more updates to follow on group and individual competitions. To stay updated or learn more about the Mount Vernon High School Speech Team, follow Mrs. Tenley on Twitter at @MV_speech and Coach Freeman at @openarenas.