Robotics Team 85A Clinches State Championship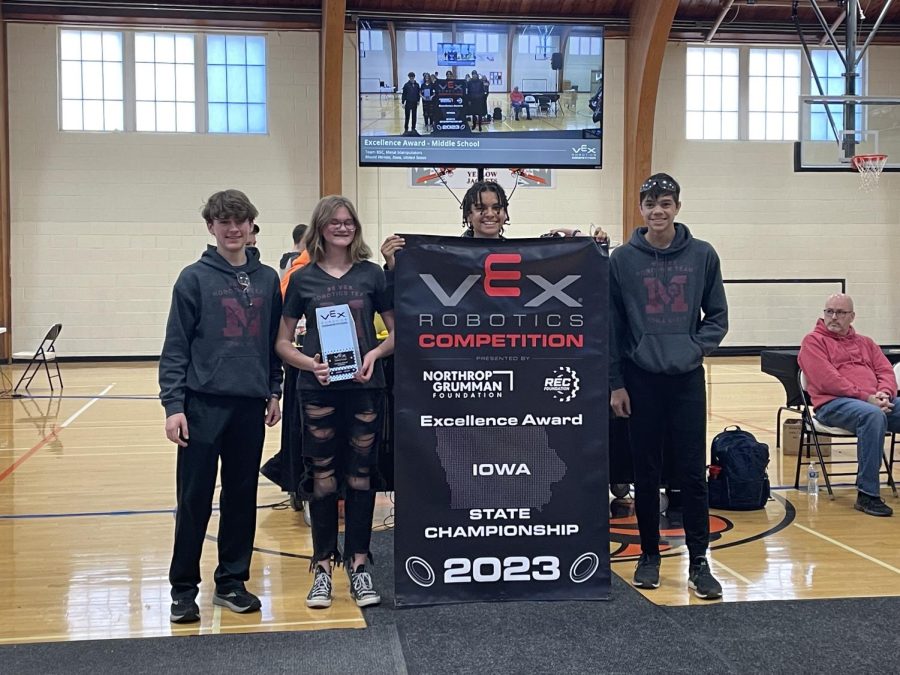 In a battle of robots from schools across Iowa of all sizes, Mount Vernon's team 85A Chassis Kickers won the VEX robotics state competition. The tournament was held March 4 held at Thomas Jefferson High School in Council Bluffs.
The goals of the competition are different each year, but this year involved shooting disks into baskets to earn points. Teams also earned points by having their robots spin rollers and expanding their robots to as many parts of the competition field as possible in the last 10 seconds of the match — most accomplishing this by having spools of rope shoot out at the end of the match.
The competition begins with qualificaiton rounds where each team competes with a random alliance against two other robots. In this competition, each team competed in eight qualification rounds, sometimes facing against the same teams they are aligned with in other rounds. These battles result in a ranking for alliance selection. Going into alliance selection, Team 85A was ranked second, with a record of 7-1, the same record as the top-ranked team 2501A Scrap-pile from Council Bluffs.  Mount Vernon Middle School Team 85C was ranked third.
In alliance selection, team 2501A chose their sister team, 2501J Full Metal Jackets, and Mount Vernon's 85A chose a team they felt matched their skills well, but were not in the top 10, 25146D Nice N' Crispy from Clear Lake. The MVMS Team 85C formed an alliance with 3018A Where Is the Laptop from Council Bluffs.
Elimination rounds began, and both  85A and 85C easily won their quarterfinal matches. However, they had to face each other in the state semifinal round. Team 85A came out on top (104-67) and went on to the finals.
In state finals, the teams have to win the best of three battles. Team 85A with their alliance partner 25146D  beat their opponents from Council Bluffs, teams 2501A and 2501J for the state champion title in two rounds, 150-123 and 164-149.
Iowa is able to send three high school teams to the VEX World Comptition held April 25-27 in Dallas, Texas. The winning alliance teams of the state tournament are invited, as well as the winners of the Excellence Award, which was won by team 3018A. The Mount Vernon Middle School team won the middle school Excellence Award, and was also invited to attend the middle school VEX World Competition April 28-30 in Dallas.