Mount Vernon High School's Top 5 Christmas Wishlist Items
December 19, 2022
It's that time of the year when just about everyone is feeling festive and merry, where kids act on their best behavior so they'll be visited by jolly Saint Nick, and when we all collectively think about what we truly want...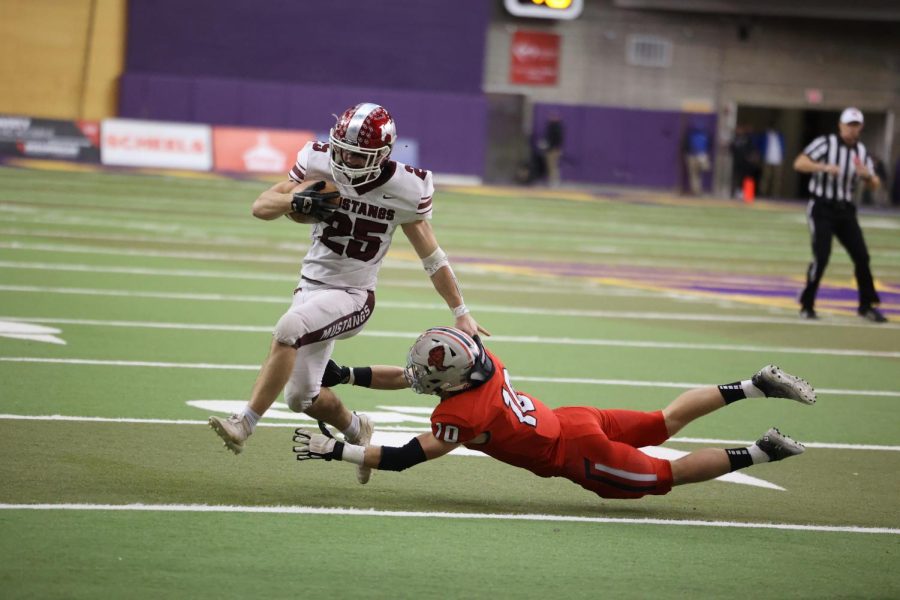 Boys Basketball Heads to Solon with 12-5 Record
February 3, 2023
Q&A with Brandon: What It's Like to Be a Student Who Is Blind
February 2, 2023
In this podcast edited and recorded by Brandon Henderson, he is interviewed by junior Sara Dierks,...
3 Podcasts: Memories, Games, and Ghosts
January 23, 2023
Trystin Lashley: Athlete and Musician
January 20, 2023
Boede Stoops: The Iowa Cattleman
January 19, 2023
He's an entreprenuer, a rancher, a dancer, a rodeo competitor, — all this, and only a junior in...
Students and Teachers Discuss J-Term Experiences
January 16, 2023
This video provides an in-depth look at the 13 courses offered during J-Term 2023 and student/teacher...
A Look at the First Street Community Center
January 15, 2023
The First Street Community Center plays a huge role in the town for its different programs and events....
January 12, 2023
Mustang Strength and Speed is a prominent program at Mount Vernon High School. This video dives in-depth...
January 3, 2023
Students in Digital Media J-term are learning how to use the cameras. Check out some of their work from...
2022 Mount Vernon High School Football Video
December 21, 2022
Top 5 Social Media Apps of MVHS
December 21, 2022
Social media is used for many things: sharing pictures,  allowing you to have conversations, sharing...
December 20, 2022
The favorite artists for teenagers are a matter of personal preference and can vary depending on individual...
Ability Physical Therapy/ Elite Fitness
300 Virgil Ave.
Mount Vernon, IA 52314
https://www.chooseabilitypt.com
(319) 895-8655
Brothers Market
930 Commercial Street
Lisbon, IA 52253
https://www.shopbrothersmarket.com
(319) 455-2017
Cornell College
600 First Street SW
Mount Vernon, IA 52314
http://www.cornellcollege.edu
(319) 895-4241
Dance Arts Iowa
First Street Community Center
221 First Street NE
Mount Vernon, IA 52314
http://www.danceartsiowa.com
[email protected]
(319) 895-8060
Gary's Foods
715 1st Ave. SW
Mount Vernon, IA 52314
http://www.garys-foods.com
(319) 895-8616
Iowa Physical Therapy
108 First Street SE
Mount Vernon, IA 52314
http://www.iowapt.net
(319) 895-4085
Kelly Concrete Co. Inc.
4925 8th Ave.
Marion, IA 52302
http://www.kellyconcrete.net
(319) 373-9500
Koppenhaver & Associates, PC
204 Glenn Street SE, Suite 1
Mount Vernon, IA 52314
http://www.koppenhavercpas.com
(319) 895-6001
RC RAIL
Mount Vernon Community School District
http://www.rcrail.com
[email protected]
(319) 895-8845
Mount Vernon Bank & Trust Co.
206 1st Street SW
Mount Vernon, IA 52314
http://www.mountvernonbank.com
[email protected]
(319) 895-8835
The Stable
731 Palisades Rd. SW
Mount Vernon, IA 52314
http://thestable.mountvernon.k12.ia.us/
[email protected]
(319) 895-8843
Stewart-Baxter Funeral & Memorial Services
715 10th Ave SW
Mount Vernon, IA 52314
http://www.stewartbaxter.com
[email protected]
(319) 895-8425
The Sun
108 First Street West
Mount Vernon, IA 52314
http://www.mtvernonlisbonsun.com
(319) 895-6216
U.S. Nameplate Co.
2100 Highway 30 SW
Mount Vernon, IA 52314
http://www.usnameplate.com
(319) 895-8804