Mount Vernon High School Robotics competes at VEX Qualifying Tournament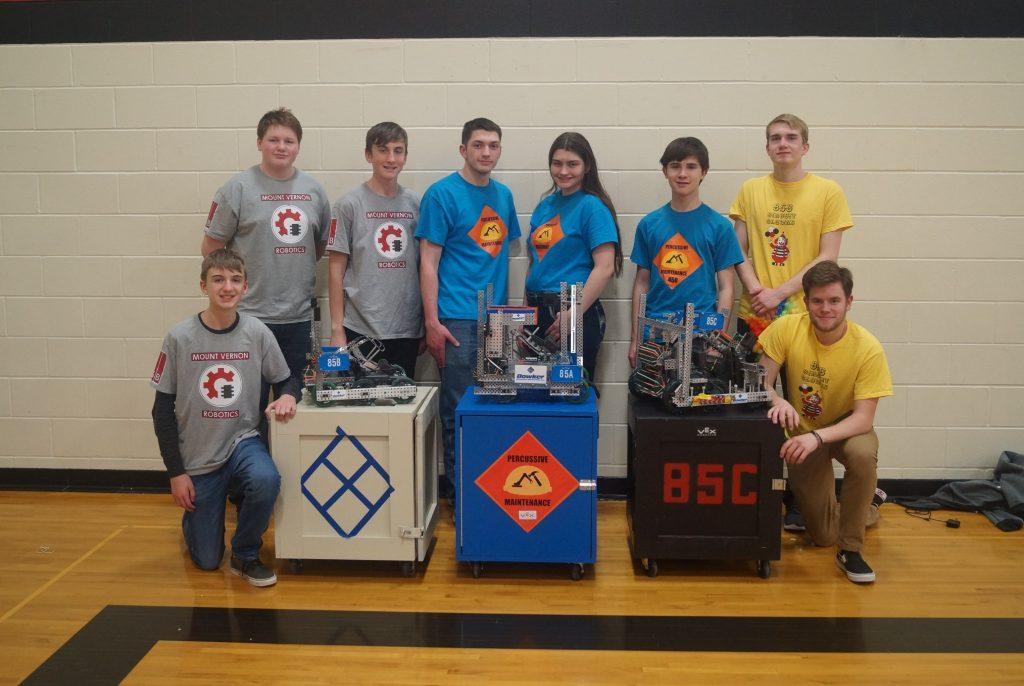 On January 12th, Mount Vernon High School, took three Robots (85A, 85B, and 85C) to Mason City, to compete against other High Schools from Blue Earth MN, Valley NE, Solon, Clear Lake, Mason City, and Council Bluffs. A total of 31 Robots competed at the daylong event.
The students did a great job of critiquing their Robots after their December 15th performance at Centerville, brainstorming ways to improve their Robots to score even more points at the Mason City Tournament.
They added more motors to their drivetrains enabling to climb the platforms easily and quickly. Determined that shooting flags was strategically better than stacking caps, they added or improved existing Rack and Pinion Ball Shooters, and abandoned Cap Stacker assemblies. Noticing that as the game progressed most the balls would end up near the flags, they moved their Ball Collector to the front of the Robot ( from the rear ), enabling the Robot to gather balls quicker, thus getting off more shots during the 1 minute 45 second Driver control period.
These strategies work very well, as all three Robots, improved their performance against some tougher competition at Mason City!
For detailed results, refer to
https://www.robotevents.com/robot-competitions/vex-robotics-competition/RE-VRC-18-6357.html
In the skills challenge (where one Robot competes alone, on field against clock), 85C driven by Jeremy Ferguson and David Wolfe got the 3rd highest score on the day.
After competing in 8 Alliance matches ( 2 Robots against 2 Robots ), 85C was tied for 2nd place at 7-0-1 . 85B and 85C were both tied for 7th at 5-3-0. That set up the Rankings and Alliance selection process, where top Teams got first picks of Alliance partners, for the Elimination Matches. Think of it like one Regional of the NCAA Basketball Tournament with single game elimination.
85C's Alliance was given a #2 seed and advanced to the Finals, before losing their one and only Match of the day.
85A's Alliance was given a #4 seed and advanced to the Semi-Finals.
85B's Alliance was given a #5 seed and advanced to the Quarter Finals.
85C is on the bubble for an invite to the State Championship, as their high skills score might qualify them, depending on outcome of two remaining qualifying Tournaments.
Story and photos courtesy of Coach Dave Keller