Committed to Cheer
By Abby Davidson
Last year 11 out of the 12 cheerleaders all graduated, leaving one returning member this current school year. That would be junior Abigail Patten. Of course the graduating cheerleaders couldn't come back and continue to cheer for their high school. Patten knew she could handle it, even with trying to start fresh.
"When I was little I always wanted to be a cheerleader in high school," Patten said. "I did Mini Mustangs every year in elementary school."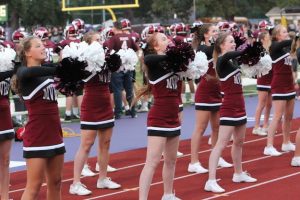 Being the only cheerleader from last year's squad threw Patten into a guiding role. "It put a lot of pressure on me to help make sure everyone knows everything and that everyone is getting along," said Patten. Learning and adjusting was hard for everyone involved. "Sometimes I would talk in cheer terms and the new members were lost. I like 'leading' everyone. I like how people can come to me and talk if they need anything."
Patten said one of the hardest parts coming into this year was starting fresh with only help from senior Lisa Blythe, who took a year off. She has managed to make a lot of new friends with the newest cheerleaders. The cheer squad was rebuilt but they show up every game with smiles on their faces, ready to cheer on the football team at home and away games.
Patten started cheering her freshman year, and decided then that she would stick with it through the rest of her high school career, even pushing aside her competitive ice skating for a while to focus on cheer. Her skating did help her when she did decide to cheer, giving her the upper hand in flexibility. Although there was a bit of hesitation before she officially joined freshman year. "When I was in eighth I was hesitant to try out but my mom convinced me it was the best idea. "
This year Abigail looks forward to every football game and pep rally the most. Stunting is something she enjoys, cradles or fulls being her favorite. "It's so exciting and it gives me an energy rush."