Robotics Girls Help Recruit More Females into Science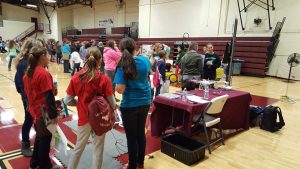 By Lexi Flockhart 
Since the early stages, the field of science has been dominated by men. Robotics, a competitive club with three teams at MVHS, is also struck with the problem of attracting female members.
It's important to have girls on the team, as the more girls there are helps the team get more points.
Sadie Player, Emma Ault, and  Kate Margheim,  girls in MV robotics,  went to  the "Open Minds Open Doors" Conference Oct. 13 at Coe College to help recruit middle school girls into science. "They did a great job in setting up, starting up, and demonstrating the robot," said coach Dave Keller. His hope since he only sent the girls on the team to present was they would have a lead role. "There were close to 500 middle school girls there and they did a great job talking to and answering their questions," Keller said of the Mount Vernon members.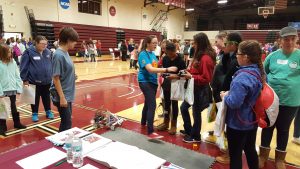 The club teaches coding and building, as well as skills like teamwork and how to manage your time. When Player was asked why she likes robotics she said,  "I get to have fun with my peers  while doing something I enjoy, building robots."  
Robotics is a club that builds robots and then codes them to compete in certain tasks such as robotic basketball, capture the flag, or hockey. Our school's teams are Percussion Maintenance, Matter Of Perspective,and Circuit Clowns. For practices they meet in the Presbyterian church's attic twice a week and spend their time planning, coding, building, and goofing around.
Video: