The Mustang Moon Receives National Recognition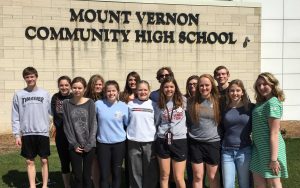 The Mustang Moon is one of 38 finalists named by the National Scholastic Press Association for the Online Pacemaker award. Judges studied 180 entries from across the nation, and categories were divided into schools under 1500 students and schools 1500 and over.
"Today's best online sites are platforms for rich multimedia storytelling," said Gary Lundgren, associate director of NSPA. "Deep and diverse coverage with strong engagement and interactivity distinguish the best student-produced news sites."
Over the past two years, The Mustang Moon has increased multimedia coverage provided by the work of a J-Term video journalism class and videos created in 21st Century Journalistic Writing.
Pacemaker finalists will be recognized and winners announced this weekend in Seattle at the JEA/NSPA National High School Journalism Convention.
More finalists can be seen at this link: http://studentpress.org/nspa/2017-online-pacemaker-finalists-announced/