Robotics Team Competes at State Today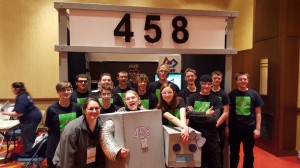 By Morgan Reilly
Mount Vernon High School's robotics team 458 competes at the state meet today in Coralville. Video of live streams and scores can be viewed at this link: http://firstinspiresiowa.org/. Team 458 is in the Black Division.
At regionals, the team combated a few problems. Their robot named "Big Bob" had a variety of issues and a hard time scoring points. The team decided to start from scratch and built a new robot called the "Rolling J's" to use for state competition.
The new robot works well, it is able to score more points than the first. The first robot was far  had major reliability issues that would come up often during testing. The machine was built to heavily."The axles would bend as we drove it until the wheels hit the frame," said senior Kai Walburg..
The team hit the workbench and decided to combine the old robot with the new one to get the best of both worlds. There were many snags here as well. The main problem combining the machines was using old and new parts together.
" The electrical connections are different between the machine," said senior Adam Gage. "I spliced the new connectors on an older PDM computer and accidentally blew it out."
Besides electrical problems the team ran into hardware problems too. The tape measure that lifts the robot up broke into pieces. "I tore them apart and threw out the old springs," said Mitchell Hall. "The springs just made the electric motor work too hard anyway."
After all the metal and wiring was roughed in it was time for the programming. With the two robots being collaborated, everything was off. "I sat down for hours rewriting lines of code, then testing and retesting the machine," said Walburg.
After all their hard work and hours of redesigning the robotics team got done in time for state. If they do well today, they move on to the super regional meet held later this month in Cedar Rapids.