Robotics team 458 advances to state tourament
Mount Vernon's FIRST Tech Challenge (FTC) robotics teams competed Saturday, Feb. 6, in one of Iowa's League Championship Tournaments held in Davenport. Out of 25 robotics teams competing, Mount Vernon's team 458 was one of 5 teams that will advance to the FTC-Iowa State Tournament which will be held March 5 at the Coralville Mariott Convention Center. This tournament will welcome the 48 best FTC teams in the state and will provide an opportunity for teams to advance to the 13 state Super-Regional Tournament. This tournament will be held March 18 & 19 at the US Cellular Center in Cedar Rapids. Those teams will have an opportunity to advance to the World Championships, which will be held in Saint Louis at the end of May. The teams are coached by science teacher Richard Scearce.
After finishing 4-1 during the qualification matches, team 458 became a captain of an alliance that reached the semi-finals. They were nominated for 4 major awards: the Inspire Award, the Rockwell Collins Innovate Award, the Think Award, and the the PTC Design Award. Two Mount Vernon students, Derk Keller and Mitchell Hall, were nominated for the Dean's List, a prestigious award named for famous inventor and FIRST founder, Dean Kamen. The Dean's List is open only to sophomores and juniors. Mount Vernon also has 6 excellent seniors with a combined 22 years of experience in robotics. Click on the YouTube link below to watch 458 score autonomously, the only team at the tournament to accomplish this. Kai Walberg, the team's lead programmer and other programmers were required to learn and use the Android platform and Java programming language, which are new to FTC this year.
Video of team 458 performing a successful autonomous score: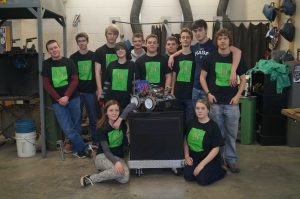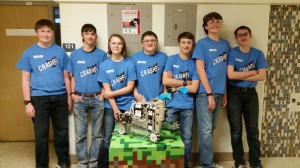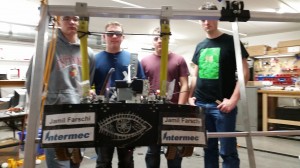 Mount Vernon's other team, Team 3549, made up of freshman and sophomores also competed but didn't advance. They have learned many STEM lessons and are having conversations on what they want to accomplish next year.
Key Mentors:
Dave Keller, Rich Hall, DeAnn Scearce, Sue Margheim, Dave Tanberg, Marcia Barnhart, Drew Keller.
Special thanks to the Mount Vernon First Presbyterian Church for providing lab space for us.
Other Links:
Animation explaining this year's game, Res-Q:

Mount Vernon Robotics Web site (under construction):
http://mvrobotics.org/index.php
MVHS Robotics team production of active shooter scenario utilizing an unmanned aircraft system:

Iron man gives bionic arm to boy:

Since Mount Vernon Robotics was founded in 2007, they have:
qualified a team for state every year since they began in 2010;
sent 2 teams to the Super Regional Tournament (2014 & 2015); and
sent 4 teams to the World Championships, including 2 in 2012;