MVHS Robotics Undefeated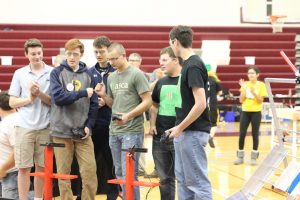 Story by Breanna Jones At the home meet Thursday, team 458 went undefeated, winning all five matches, while team 3549 had three wins and two losses. "It's hard to go undefeated in the second meet," sophomore Emma Ault from team 458 said. "We usually don't go undefeated until the fourth or fifth meet."
Team 458 racked up 157 points by the end of the night. They mostly used a tactic called "hanging" to achieve this score, earning them a whopping 80 points per hang. In order to hang, the robot needed to somehow attach itself to the top bar and pull itself up until it was in the air. Out of the 21 ways to gain points, this was the most challenging strategy. Crushing all 11 teams that competed, team 458 ranked first, while team 3549 got eighth place with 62 points.
The meet not only boosted the team's confidence, but also their budget. The robotics club isn't funded by the school, meaning they have to get money their own way. They raised 700 dollars from their concession stand at the meet by selling candy, BBQ pork sandwiches, walking tacos, and various flavors of milkshakes.
"Experience is important, their experience and knowledge really showed compared to other teams," Robotics coach Scearce said about the win. "In the future, the other teams will start to learn how to hang," Scearce also said. "We need to be able to gain points in other ways."  Despite their undefeated meet, Team 458 still has a lot of work to do before their next meet on Friday, Dec.18 in Regina.