Benesh Performs a Balancing Act of Fine Arts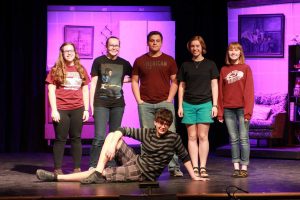 By Cameryn Klotzbach
Hard work and talent flows throughout the students of Mount Vernon High School, whether it's sports, academics, or fine arts. Martin Benesh, a junior, does a balancing act with band, orchestra, marching band, both jazz choirs, MVHS Theatre, Community Theatre, Odyssey Theatre for the Young of Art, Speech, and he occasionally takes part in Concert Choir and Pep Band. Aside from performing arts, Benesh also takes multiple art classes and plays bass for the middle school choir. He is extremely well-rounded student and has earned many awards for his work in the fine arts. Benesh has been in many All State groups including All State Orchestra, All State Jazz Band, and All State Speech.
An honor that will come to fruition this summer, Benesh was one of 16 individuals selected to do tech for the International Cast Opening Show at the International Thespian Festival. He spent months going through past accomplishments and pictures and created various portfolios to be submitted for the International Thespian Festival. People were selected nationwide to take part in this once in a lifetime opportunity, and Benesh feels honored to be selected. He said he became interested in tech because, "It's always about learning new things and expanding my knowledge." Benesh takes any chance he can get when it comes to showcasing his tech talents. In addition to being acknowledged on the large platform of International Thespian Festival, he is an officer for his local troupe, where he is also a President's List Thespian Scholar.
Benesh's list of accomplishments runs deep. He has been in Orchestra All State twice, and of these two times he has been 2nd and 3rd chair for string bass. Benesh has also performed once and been an alternate for All State Jazz Band. As for All State Speech, Benesh has performed on three occasions and was invited without performing once.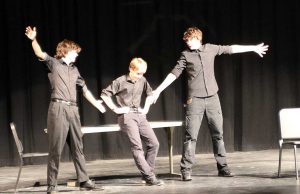 Benesh is active in Thespian Festival; at State Thespian Festival his team won cord coiling relay and he got second in knot tying. Also at State Thespian Festival, Benesh's ensemble including Sam Krapfl and Luke Moran won the group acting event. Benesh has received division 1 ratings in band, orchestra, both solo ensemble and large group competitions, and has gotten second at Jazz Band Jazz Championships two years in a row.
Benesh first became interested in speech when he saw high schoolers at the time performing awesome skits. Sam Krapfl, Luke Moran, and Benesh are known as "the trio" and have gotten great results when they perform together. They have been invited to perform at the National Individual Event Showcase in June.
Currently enrolled in two art classes, Benesh plans on taking more next year to improve his set building skills. Maybe his artistic talent is inherited, as his uncle Mark is the Mount Vernon Middle School art teacher and known for outdoor murals.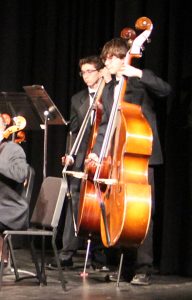 Also on his agenda next year, Benesh plans on not being so heavily relied on for tech, and wants to teach others his skills. He has a lot of fun programming the board and experimenting with different light sequences and combinations. Benesh's favorite fine arts groups are tech and jazz band.
Benesh plans on going to college to study string bass performance and technical theater. He has been playing the bass since fourth grade. "I wanted to play the bass because I was a big kid, and the bass was also big," Benesh said with a smile. 
Benesh sticks to fine arts because it's what he's great at and he really enjoys it. "I played soccer, but I wasn't good at it. I didn't wear my glasses so I would just kick the ball and sometimes my teammates would get it and other times one of the opposing team's players would get it." While athletes are working to run faster or jump higher, Benesh is jamming out in jazz band, playing his bass, and furthering his technical skills.