MV Travels to UNI Dome for State Football Semifinals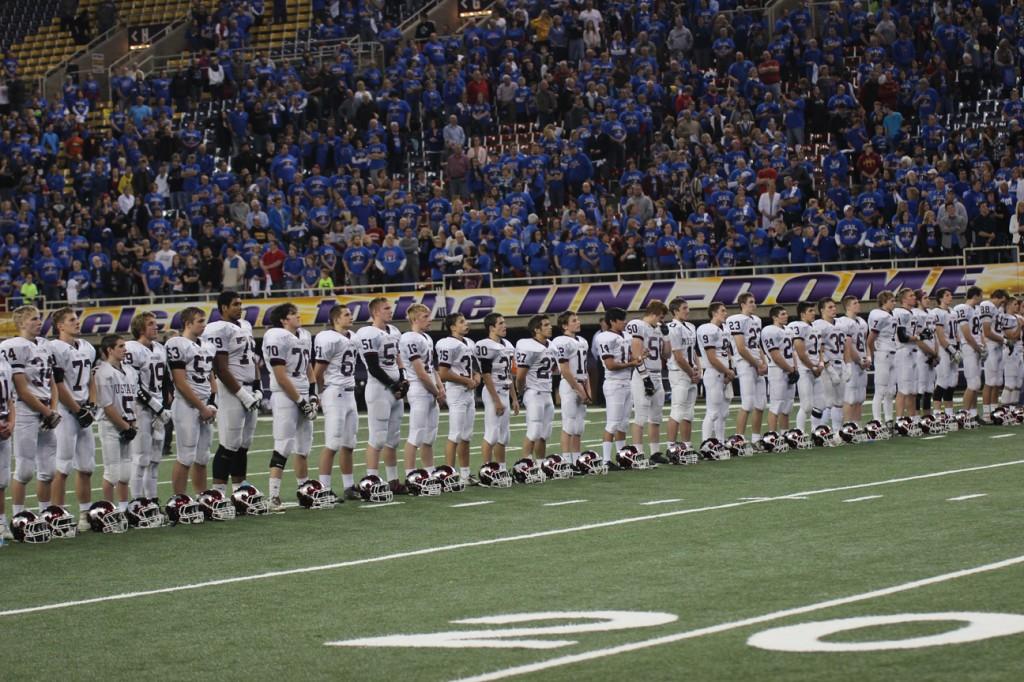 Slideshow of Semifinals by Rachel Bell with photos by Bailey Priborsky

By Maggie Rechkemmer
The Mount Vernon football team traveled to the UNI Dome in Cedar Falls, IA on Saturday Oct. 14 to compete in the state tournament. The Mount Vernon Mustangs took on the undefeated Albia Blue Demons at 7:06 pm.
Three minutes left in the first quarter, Jack Cochrane ran the ball 10 yards into the endzone. Touchdown Mustangs! Carlos Castro's kick is good for the extra point. Mount Vernon is on the scoreboard with 7 points, while Albia has 0.
Two minutes in the second quarter, Adams completes a pass to Connor Herrmann who takes the ball 15 yards down the field for at touchdown. Carlos Castro's kick is good. Mount Vernon is still ahead with a score of 14-0. With 4 minutes left in the third Bryce Leshen from Albia runs the ball 18 yards for a touchdown. Brenden Bassett's kick is good. There is only 45 seconds left in the first half Albia's Bryce Leshen sprints the ball 8 yards into the endzone for another touchdown. Brenden Bassett kick is good. Albia is now on the board with a score of 14-7 at half. At the end of the second half Sam Moore's 31 yard field goal attempt is good for 3 points. The Mustangs are now ahead.
Now going into the second half of the game Drew Adams throws a pass to Tommy Hook with 20 seconds left in the third quarter. Touchdown Mount Vernon! Carlos Castro's kick is good. The score is now 24-14, Mount Vernon. At the beginning of the fourth quarter, Albia's Carter Isley runs the ball 4 yards into the end zone. Touchdown Albia. Brenden Bassett's kick is good. Yet Mount Vernon still pulls out the big win. The final score is 24-21 with the Mustangs taking home the win. "We just came out and did what we knew we had to do," said junior Tristan Wirfs about the success of the team on Saturday. "I know everyone was hyped about the win, and now we're in the state finals!"
Mount Vernon will play against Spirit Lake on Monday Oct. 23 at 2 p.m. in the UNI Dome for the final round. Sendoff is 9:45 a.m. for the football players at the high school. Both the middle school and  high school pep busses leave at 11:30 a.m., with the high school pep bus departing from the high school parking lot and the middle school pep bus departing from the middle school parking lot.  There will be a welcome home celebration at 8:00 p.m. on Monday after the game to congratulate our players. The student section will wear maroon. Drive safely and come support our boys for round two at the Dome!

Mustangs take the field:

Interception by Connor Herrmann:
Leaving the field after the game: