Archery Team Scores High at State
by Charlene Gerke Vig
Mount Vernon makes a winning appearance at state tournament The archery season for Iowa's National Archery in the Schools Program (NASP) schools reached its finale on Saturday, March 7 in Des Moines.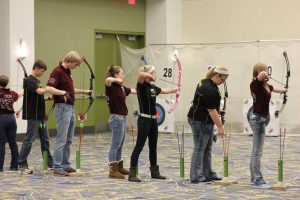 Mount Vernon's archery team shot at the State Tournament and proved to be among the best in Iowa. In team competition, the elementary school team placed first in the state, scoring 3083. The team was led by Mae Owen and Jensen Meeker. Meeker finished in fifth place during state competition with an individual score of 273. The high school team ended up with an eighth place state ranking. They were led by Kayla Hicks and Gage Lochner.
The story of the day was the middle school team, which also placed first with a team score of 3318. In total, the team shot 170 bullseyes. They were led by Logan Kelly, who shot a club record-setting 297. Kelly's score, which was his personal best, was also the high score of the tournament and included 27 bullseyes out of 30 arrows shot.
Other Middle school leaders were Caroline Voss, Collin Hallier, and Connor Meyers, who placed 3rd by shooting 283 in a tie-settling shoot-off. Sixteen archers achieved their best scores for the season at the state tournament. They were: Jessica Belding, Jacob Cannon, Kael Dimmer, Nick Flynn, Emily Friedman, Manuel Millan Gomez, Aden Grudzinski, JP Hoagland, Logan Kelly, Sara Lyon, Jensen Meeker, Ryan Naeve, Kyler Shannon, Jake Stanerson, and Brody Ulch.
Coach Tom Wilkinson wrapped up the state tournament saying, "I was very proud of kids and coaches. They did well considering what a big moment this was for them." Over the next few weeks, as other states complete their tournaments, qualifying teams for the National Tournament will be decided. Mount Vernon's Archery Teams will celebrate their successes this season with a banquet and family shoot at the end of the month.
Elementary
Gus Andrews,202; Ellie Barkalow,250; Elizabeth Barns,230; Jaegen Becthold,237; Jessica Belding,243; Jacob Cannon,231; Quinlan Denes,257; Hannah Dewitte,236; Kael Dimmer,256; Naomi Flynn,226; Aden Grudzinski,272; JP Hoagland,239; Walker Holmes Bilden,226; Jaden Houghtaling,243; Aden Locke,254; Jensen Meeker,273; Ben Merlak,249; Ryan Naeve,260; Mae Owen,259; Jacob Russell,248; Ethan Stanerson,219; Henry Steine,243; Brody Ulch,262; Clark Younggreen,242
Middle School
Cooper Becthold, 171; Karlyn Connolly,277; Alex Deeb,266; Paige Emig,263; Noah Exley-Schuman,271; Nick Flynn,281; Collin Hallier,282; Colton Hof,259; Preston Johnson,260; Jake Kadlec,267; Logan Kelly,297; Zach Kolker,273; Kelsey Kosman,247; Rachel Lochner,253; Tryston Locke,267; Connor Myers,283; Anna Nydegger,249; Mya Reyhons,270; Kailey Shannon, 248; Max Siders,235; Jake Stanerson,267; Sydney Ulch,272; Caroline Voss,278; Kayla Wallace,257; Eli Webster,264; Kaylia Wirfs,241; Kai Yamanishi,253; Olivia Zach, 255
High School
Aaron Barnhart,279; Nathaniel Barnhart,273; Cody Connolly,261; Isaiah Exley-Schuman,258; Emily Friedman,279; Kayla Hicks,280; Renny Klein,256; Gage Lochner,286; Brandon Lochner,284; Clayton Loyd,265; Sara Lyon,275; Cian Meier-Gast,250; Manual Millan Gomez,271; Matthew Morrical,260; Grace Niehaus,264; Kyler Shannon,249; Christian Tanberg,272; Kari Tanberg,261