Snyder the Sniper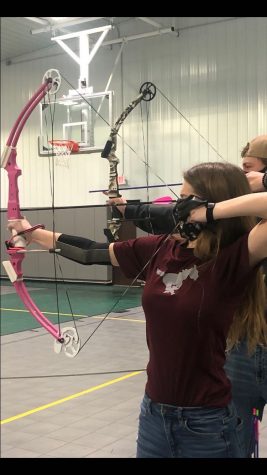 Targets line the walls. Archers line up opposite of the targets, parents stand behind everyone, coaches of every team are there, all staring at you. The pressure is on. This is the situation sophomore Sierra Snyder was in last year when she shot at a Marion archery meet.
Despite all of the pressure, Snyder shot a personal record of a stunning 283/300. An accuracy of 94.3 percent. "I'm good at it, I guess," said Snyder with a smirk.
In the beginning, Snyder was a bit discouraged. "A lot of my friends back when I was in fifth or sixth grade were doing really well, and I just sucked," said Snyder when recapping all of the times she wanted to quit. She found a reason to stay shortly after when she started getting better and receiving opportunities to go to state and nationals.
Snyder has traveled to nationals every year uninterrupted until last year when COVID-19 struck. The national archery tournament was moved to an online format. Nobody on the archery team tried out because of the unfamiliar nature of online nationals.
Going to nationals every year is an impressive feat. With an average score of 270, Snyder is a valuable asset to the team. Her team can count on her to carry her weight in every meet for team scoring.
There are two different types of targets in archery, the normal ring targets, and the 3D animal targets. "I got better scores on the normal targets, but 3D is easier," Snyder explained. 3D is easier because of the way it is scored. Unless you miss, you get more guaranteed points per shot.
The equipment used in archery is very important, and anyone committed to archery will most likely invest in their own gear. This includes a bow and gloves which Snyder's family copped for her back in fifth grade.
In addition to shooting in practice, there is also a social aspect. "Sometimes we have practices where we do nothing but talk," said Snyder. There is not much skill being improved during these practices but they can calm nerves before a big meet.
One embarrassing memory from archery was when "I was trying to kick something on the ground, but I ended up slipping and falling on the ground in front of everyone, who of course, started laughing at me," explained Snyder.
One of the life lessons that archery has taught Snyder was to never give up. "Everybody has bad days, you just have to keep going and find the good ones." 
Archery is not a sport for people who want a casual experience or aren't committed. "I'd recommend it if you are willing to take the time to do it," Snyder stated. If you want to participate in archery you are going to have to clear your schedule because of all the weekend conflicts. Archery has practices on Tuesdays and Thursdays with tournaments almost every weekend.