Emily Friedman Takes Her Final Trip to State
By Maddie Naeve
When Emily Friedman was in fifth grade she was persuaded by her neighbor, mid season, to take part in the archery club run by Tom Wilkinson. Friedman, a senior, competed at nationals in Louisville, Kentucky, during her sixth and seventh grade seasons.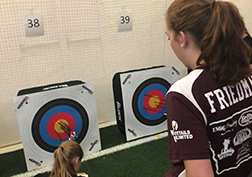 "I remember when I was a sophomore I competed at state, and we all thought we were done for the day so we were going to take a group photo. We were all lined up and smiling at the camera when the announcer said my name and said that I placed fifth," said Friedman. She has had success throughout her career. During her junior she showed her talent when she set the Mount Vernon Archery Club high school women's record of 293.
The fall of 2017 Friedman began by feeling burned out of archery. Having a full schedule, she contemplated quitting. She took part in cheerleading, cross country, had a job, and took part in three college classes. Ron Lochner, assistant archery coach, informed her that the practices changed their time and that he was going to be present at every one of them. Because of Friedman and Lochner's friendship, when he assured her that he would be at practices Friedman's outlook on the upcoming season changed. This season Friedman shot an average of 284.375 at each tournament, and is the 12 rank female archer in the state.
She qualified for the state archery tournament taking place on March 10-11 at the Maytag Family Theater in Des Moines, where she hopes to beat her personal best. State has a high value to Friedman this year, because the highest shooting female senior receives a scholarship.