Yearbook Squad Wins Yearbook of the Year at IHSPA
The tension was thick in the air at the awards assembly for the Iowa High School Press Association Fall Conference. The yearbook squad knew they were on the short list for winning the News Team of the Year award—which they did not receive. However, they received something better: Yearbook of the Year in Class 3A. It was an exhilarating win—gratifying, rewarding, wholesome. Editor-in-Chief Abbie Morf described it as "validating."
Placing first in the state is "a reminder that we're actually really good," Morf said. With sports it's easy to tell how well the team is doing because you can go watch the games and look at statistics, but with yearbook you don't know what other schools are doing; you don't know what themes schools are picking, what their spreads look like, or the talent of other student journalists. But with the awards segments of high school journalism conferences is where schools really shine.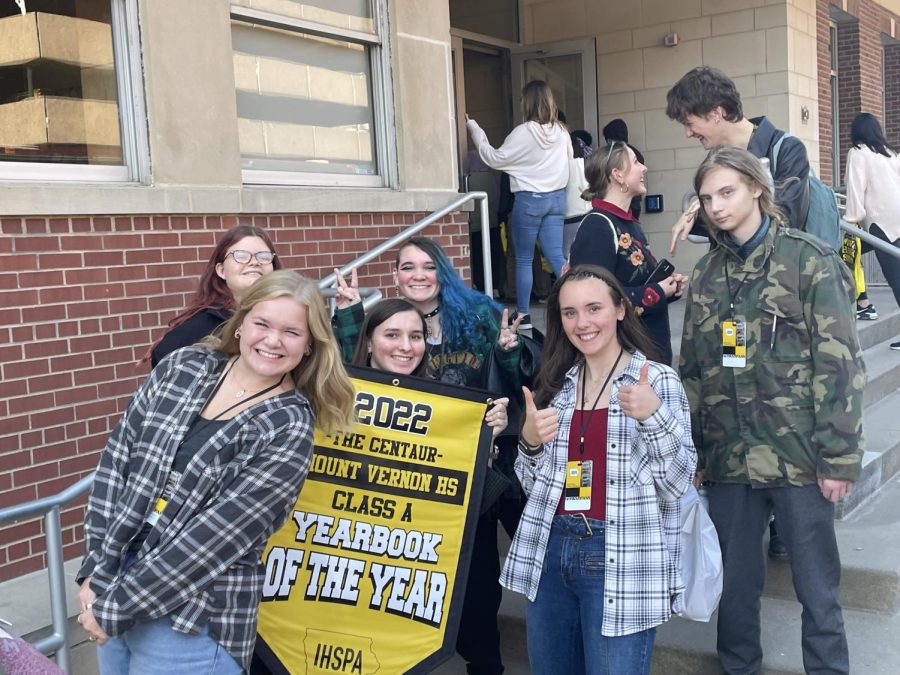 Morf, now a senior, joined yearbook second semester of her sophomore year. And while she wasn't able to attend IHSPA this year, she was able to make it the year before. Recently she counted up all of her IHSPA awards—past and present—and discovered that she has won about 17 awards total from IHSPA.
The win was a total shock, for senior Tori Oelrich the win didn't fully register in her mind until she saw the banner—which made her "excited." Oelrich took home two awards this year from IHSPA, one for a feature photo titled "Center of the Action" and the other for a senior spread design, which she jointly won alongside yearbook alumni Anna Moore and Georgia Pierce.
Mustang Moon Editor-in-Chief Dallas Olberding described the feeling of winning Yearbook of the Year as "great, amazing, all the things." Aside from Yearbook of the Year, Olberding won three total awards in story writing and for his news segment in the 2022 yearbook; he also received an honorable mention for an infographic. 
Aside from Mount Vernon winning Yearbook of the Year in Class 3A and 27 other awards, IHSPA was a learning opportunity for all. The staff attended breakout sessions at the conference about photography, newswriting, design, and other areas in journalism based on their individual interests. Oelrich attended a session about multimedia and film, where she "learned about incorporating video into our publication."
Olberding attended a session presented by Joelle Sexton entitled Building a Yearbook Culture which "sparked ideas for me on ways in which we can do more within the group to further bonding and make it a fun and energetic atmosphere," said Olberding. 
The yearbook staff appreciated the experience of attending IHSPA in Iowa City where they met other student journalists from across the state and learned how to improve the yearbook and their own skills in journalism.