Happy Birthday to the Mustang Moon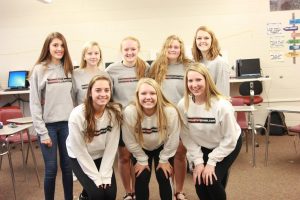 By Bailey Priborsky
The clicking of keyboards surrounds us as the fear of missing a deadline creeps up our spines. The words flow like water from a faucet and a story is born, ready to share with our peers. This story could change someone's life, bring a tear to your eye or make you laugh until your sides hurt. If you miss an event we can give you the facts and the inside scope of what is happening at Mount Vernon. Our job is to report, and this is what we have done for 20 years.
As a publication, The Mustang Moon has transformed from a page in the local paper created by a group of students after school to a website fed by high school journalism classes. Last year, the newspaper staff earned the honor of News Staff of the Year from the Iowa High School Press Association. Each year the staff has become more and more experienced and creative. Yearbook editor senior Alyssa Maddocks said, "One thing that most people don't know about The Mustang Moon is how much teamwork is involved to get us to the end goal." As a group we work to edit each other's stories and bounce ideas for new ones off of each other. The stories that are published are not only read by the high school students but also by the community.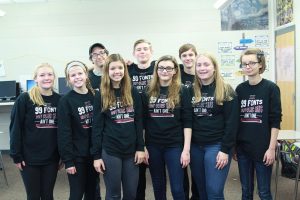 The Mustang Moon has become a more prominent news source in recent years due to social media. Accounts on Facebook and Twitter direct readers to our website www.themustangmoon.com. In addition, we have an account on Snapchat and Instagram.
With the success from last year the publication is set up to excell. The newspaper advisor JoAnn Gage said, "I think the success last year will affect this year because we had a taste of success and now we know we can do it." This mile stone for The Mustang Moon is just the beginning and there are better things to come with age.