Student Journalists Journey to IHSPA Fall Conference
Lillie Hawker
November 14, 2019
How does a student journalist measure their success? In their grade for the class? In yearbook sales? What about in a state-wide contest?
Each year the Iowa High School Press Association holds their fall conference in Iowa City, where student journalists come from all over the state to learn new tips and tricks and the results of the fall IHSPA yearbook contest.
On Oct. 24, journalism teacher JoAnn Gage took 23 students from her journalism classes to the fall conference where Mount Vernon received many awards. Among the awards acquired included three first place, four second place, two third place and six honorable mentions. The yearbook overall placed third in Class A.
Students who won awards had many emotions about winning. "Honest surprise, I didn't know I had been entered," Kai Yamanishi, a junior, said. Yamanishi got third place for his story on community service in the Story/ Student Life out-of-school-related category. Yamanishi's story was initially a story assignment intended for the Mustang Moon, but had been placed on a spread in the yearbook.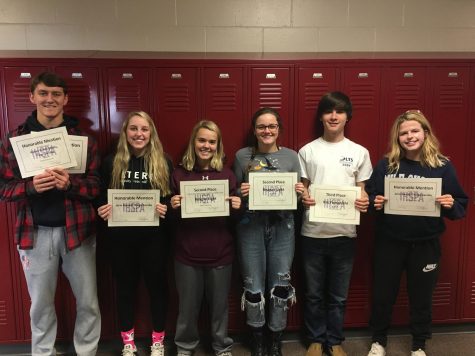 Before they learned the results of the contest, students attended four break-out sessions that taught them new skills and useful technology to help them better their craft, including listening to fellow student journalists. "My favorite session I went to was the Des Moines Yearbook discussion panel because I got to see how other schools operate their yearbook," senior yearbook staff member Paige Beck said. Beck and her classmates took what they learned with them into the classroom in order to create a better yearbook, in the hopes of receiving more awards next year.
Full list of Awards:
| | | | | |
| --- | --- | --- | --- | --- |
| Design / January to June events | Honorable Mention | Mount Vernon HS | Wrestling spread | Aydan Holub-Shultz, Paige Zaruba |
| Design / Opening- closing or division spread | Honorable Mention | Mount Vernon HS | Activities Divsion: Thunderstruck | Maddie Naeve |
| Design / summer to December events | First Place | Mount Vernon HS | Once on This Island Spread | Caroline Voss |
| Design / summer to December events | Honorable Mention | Mount Vernon HS | Cross Country | Jorie Randall, Paige Zaruba |
| Personality Profile | First Place | Mount Vernon HS | Small Town Girl Goes To Nashville | Anne Rhomberg |
| Personality Profile | Second Place | Mount Vernon HS | A New Normal: Life with Cancer | Reagan Light |
| Personality Profile | Honorable Mention | Mount Vernon HS | Superwoman on the Sidelines | Maddie Speed |
| Photo Illustration | Second Place | Mount Vernon HS | Cover art | Maddie Naeve, Pauline LeBlanc, Caroline Voss |
| Photo Illustration | Honorable Mention | Mount Vernon HS | What is your favorite type of weather and why? | Lauren McCollum |
| Sports Story | Second Place | Mount Vernon HS | Capping off a Perfect Season: Wrestlers compete at state tournament | Reagan Light |
| Sports Story | Honorable Mention | Mount Vernon HS | New Year, New Quarterback: Sophomore Brady Ketchum takes on big leadership roll | Lauren McCollum |
| Story / student life- out-of-school related | Second Place | Mount Vernon HS | Diamond in the Rough: Thrifting Is a Big Trend for MVHS Students | Lillie Hawker |
| Story / student life- out-of-school related | Third Place | Mount Vernon HS | Community Service | Kai Yamanishi |
| Theme | First Place | Mount Vernon HS | Theme: Bring the Storm | Maddie Naeve |
| Total Package | Third Place | Mount Vernon HS | Trends layout | Lillie Hawker |