Science Olympiad Chases State Title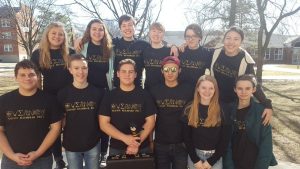 By Grace McCollum
On Saturday, Feb. 18, the Mount Vernon High School Science Olympiad Team won the competition at Truman State University in Missouri. Ten out of 23 events placed first to aid the team in obtaining a winning score of 56 total points.
Science Olympiad is an extracurricular activity that allows students to combine their love of science with a competitive setting. They compete in various different events that are of interest to them, and go head-to-head against other teams from all over the state. All of their competitions give them a realistic competitive setting in which they can perfect their events for the state competition at Coe on March 25. The Science Olympiad team will represent Mount Vernon at the state competition with high hopes of bringing home the title, and making their first ever appearance at the national competition.
"I think we have a good chance of making it to nationals this year," senior Heather Boothman said. Last year, the team tied for first at state with Ames, but Ames advanced to nationals with the tie-breaker.
Every competition has brought the Mustangs more success and higher scores. Boothman competes in Ecology, and Anatomy/Physiology. She was able to place first in Ecology and second in Anatomy/Physiology with partner, senior Emily Tvedt. "Overall our team is placing well and has high hopes for our state competition," said Boothman.
The team's success comes from their shared passion for science, and guidance from coach, Alaina Appley, a science teacher. "I'm a very competitive person," said Appley. Her love of science and competitive nature leads the team throughout the long season. "We tied for first last year and lost in a tie breaker. It was devastating," said Appley. The key to their success at state will be beating Ames, their biggest rival.