Mount Vernon's Future Cheer Squad
By Jessika Brokel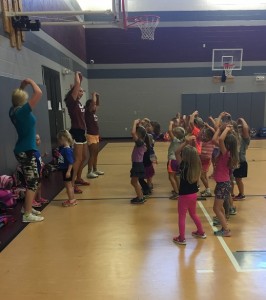 Many little boys and girls have a dream to be just like the high school students. Some want to be the star football player on the team, and others want to be out on the field just like the cheerleaders. Many children achieved this dream on Friday, Sept. 16, during Mini Mustangs cheerleading.
During halftime of the varsity football game nearly 120 elementary students aging from kindergarten to fourth grade took over the field. The students performed three cheers, which the varsity cheerleaders created, including one of the originals "Cookie Monster".
"I like the new cheers just because I did the Cookie Monster cheer when I was in elementary school, so it's nice to get a little variety," said senior cheerleader Rachel Bell.
The week leading up to the big game consisted of two practices after school. The students learned cheers, played games, and bonded with the varsity cheerleaders. Senior Bailey Priborsky said her favorite part was "the enthusiasm and energy they had."
The day before the performance ended with a "mock performance," in which the students practiced what they were going to perform at the game, and received their T-shirts. All the little kids were ecstatic to get their shirts because they looked just like varsity cheerleaders.
The Mini Mustang cheerleaders offer much potential for future cheer teams. The cheer camp gives an inside look to what it would be like to cheer in front of the crowd, and pump up the team.

Video by Paige Zaruba