The Competitive Side of Art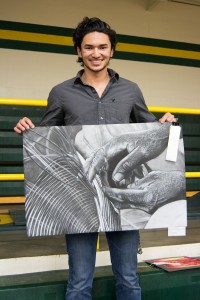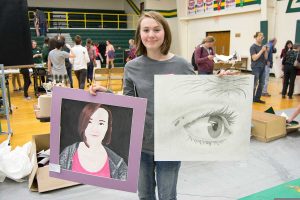 By Maggie Dale
He narrows his eyes, concentrating first on the photograph in front of him, then on the crisp sheet of paper laid out on the table. As he carefully sketches the lines, the shape of a hand begins to appear. Senior Journey Dawa bases his drawing, depicting a pair of weathered hands weaving a basket, off of a photograph taken in Kenya by Claire Pettinger ('15).
Every April, the WaMaC Conference holds an art competition.  Around 150 students from eight different schools compete in 16 categories of art, which range from mixed media 3-D to watercolor to experimental photography.   Last spring, art teacher Ely Sotillo selected nine students from Mount Vernon to attend.  He saw the talent that these students had and asked them individually if they would like to participate.  Each school can submit up to 20 works of art. Mount Vernon students entered drawings, paintings, and photography.  The work is judged by professional artists.
Kate Margheim, a current sophomore, took a charcoal drawing and acrylic painting.  She believed that Mr. Sotillo selected people who he thought really cared about their art and improving their craft.  "I would totally recommend this to anyone!  It was so fun to learn about new things and to learn about your own artwork," said Margheim.  "While the judges were looking at our artwork we went to classes on how to make short films." She said that although the classes were short, they were fun.
"I dislike the competition because I'm very competitive and tend to be overly self-critical when it comes to my stuff, but I love the atmosphere and seeing the creativity and thought behind everyone's work," said Maggie Lynott, now a junior. It wasn't Lynott's first time attending WaMaC, and she hopes it won't be her last. She would like to go again this year one way or another, if not as a competitor then as an observer hoping to learn from the works of others.
Dawa took a drawing and a watercolor painting. "It's different than sports where there is an obvious winner, whereas art is just up to the opinion of the judges," said Dawa. "I learned new techniques and the watercolor painting was my first time trying watercolor, so that was fun." He said that while it is disappointing if you don't win, it's still fun to compete and hang out with the other people who attend. Dawa plans to go to WaMaC again this year, and hopes to get a couple wins for Mount Vernon.
This year the Art Fair will be held in Dubuque on April 12.