Creative Canvases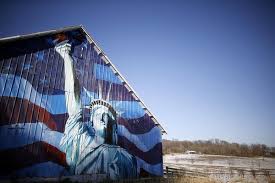 By Connor Bilden
In Mount Vernon art is a big part of the community. As you're driving east of Cedar Rapids on Highway 30 into Mount Vernon, you will more than likely see Grant Wood's American Gothic painted on the side of a barn since 2008. About a mile after that barn you will see the Statue of Liberty painted on the apple orchard's barn, completed in 2010. Both of these paintings were the work of Mark Benesh, the Mount Vernon Middle school art teacher. He did it with no help and he said it took three weeks to finish each project. Benesh also added that he was actually paid to paint these barns for the owners.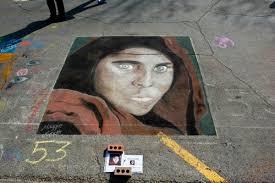 Every May an annual sidewalk chalk festival takes place. Hundreds of people including several Mount Vernon High School students make their mark on more than 4,000 square feet of Mount Vernon's main drag. Maggie Lynott said she has participated for four to five years. One of the years she won it all with a drawing of an Afghan women. She said lots of her friends participated in chalk the walk as well like Journey, Bryce Cox (who also won), John Butz, Olive and Noelle And many more. Maggie said, "It's a fun event where you get to meet walks of all life." She also added "everyone is supportive of you no matter what you draw."
Last May a big mural project took place in Mount Vernon. This project was organized by a Mount Vernon graduate Strider Patton. The canvas they chose to paint was a 240-by-11-foot retaining wall right in the middle of Mount Vernon. Patton worked with Mount Vernon's area arts council, he raised 13,500 dollars to fund this project. He broke the mural into six different scenes all of which represented Mount Vernon in a different way. The six sections that were painted on the art wall were a rural landscape with country hills and a train, two rocking chairs on a porch, a festival ferris wheel, fireflies and a fox, the Shoe Tree outside of town with shoes hanging from its limbs, and a peaceful winter landscape.
Senior Brian Harris was one of many students who worked on the project, which he said took only about two weeks to paint because of all of the help they got from middle schoolers in art class. He said somewhere around 400 kids helped paint over the two weeks it took to complete the mural. The school would bus middle schoolers over and they would help, many high schoolers helped as well. Brian added that it was really fun and a good way to meet new people. He also said it's cool knowing that he contributed to the mural because it will be there for a long time and everyone that walks by sees it.