Seven Students Attend National Portfolio Day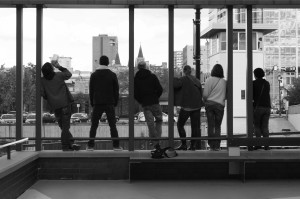 By Laura Adrian
Freshman Kate Margheim was shocked at the abundance of art-related buildings and businesses that she and the other students found while walking through the streets of Milwaukee for National Portfolio Day. "Literally there was art everywhere. Y ou glance up–art gallery! You look over there–another art gallery! You look the other way–art store!" she said.
Margheim and six other art students, led by art teacher Eli Sotillo, drove to the Milwaukee Institute of Art and Design (MIAD) Oct. 16. Students met with college representatives to have their work critiqued and viewed the work of others. Kate brought one of her personal sketchbooks as well as in-class exercises from Beginning Drawing, which included a charcoal drawing of outstretched hands and a Star Wars droid.
Junior Ethan Wenz, another art student who went on the trip, brought with him a photo book containing about 20 photos that he had taken himself. Ethan is planning to be an artist when he's older. He chose to go on the trip because he wanted to further his knowledge and spend time with his friends. Both Kate and Ethan are planning to return to MIAD next year.
When they finished at MIAD that afternoon, the group of art students headed home. They returned with many fond memories of their experience in Milwaukee. "My favorite part was just walking around and hanging out with people." Margheim said. "I was a little shy because I didn't know anybody, but I still felt like I was included".