The Show of a Lifetime
By Rachel Bell 
The clock struck ten. The stage was as bright as the high noon sun, but outside it was miserably cold and dark. Exhaustion had hit. Not one bright eye shone on the stage. They were half asleep–their feet dragging behind them, acting as a broom, sweeping up the dust and splinters as they moved along. As they hit the final note, the room seemed to brighten as all involved thought this was their ticket to go home for the night. But then came the words they dreaded the most… "One more time."  It wasn't always fun, it wasn't always exciting, but the reward was soon to come. It would all be worth it in the end. When the curtains would go up and the first note would be played, all the long nights and tired eyes would go away, only to reveal the phenomenal product that was created.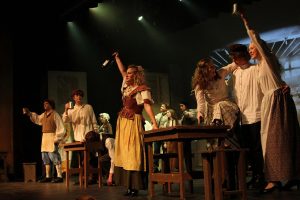 It was the show of a lifetime, especially for a town as small as Mount Vernon. Nobody, not even the cast, thought they could pull it off.  The production itself would bring so many difficulties–casting, costumes, lighting, vocals, staging, and the mass work that it would take to put on Les Miserables. But they did it. Somehow, small town MVHS pulled it off.
The community response was outstanding. Word had yet to travel much come opening night. However, by the last show, people were being turned away at the door. It wasn't just important to the cast, but it had an impact on the town. It secured Mount Vernon's spot as a leader in the theatrical community. It made the people of Mount Vernon proud. It showed just how powerful this small town really is.
For the seniors involved, it was the best possible finale to their high school theater careers. But for the underclassmen involved, it was just the beginning. It set the precedent of the hard work needed to go into every production afterwards in order to exceed the newly set expectations. It was truly the show of a lifetime, something that everyone involved will surely never forget.
Below, watch a video created by Amanda Dragon, Rachel Bell and Maggie Davis that includes interviews with the actors and directors, as well as video footage from the production: