Safe Haven by Nicholas Sparks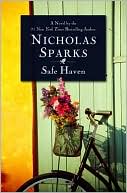 By Haleigh Ehmsen
The story starts out in Katie's point of view, a woman new to the small town of Southport, North Carolina. Most of the townfolk find her mysterious and are alarmed by her presence but the owner of the grocery store, Alex, seems to be drawn to her.  Though she tries to keep her distance she finds herself becoming close with Alex and his two children. But Katie has a dark secret that, no matter how hard she tries, still haunts her.
Nicholas Sparks is known for his tearful love stories but Safe Haven is the first Nicholas Sparks book I have read and not cried.  Honestly I found this particular book more chilling than romantic. Although it did still stick to Sparks' "love story" theme and kept me up until 1:30 a.m. one morning. I would rate this book a 3 out of 5 and would recommend it to someone looking for a quick interesting read.