Perspectives in Speech from a Senior and a Freshman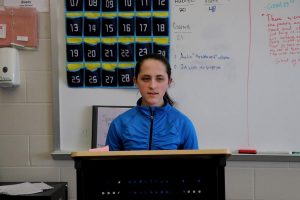 By Maggie Dale
Exhilarating. Nerve-wracking. Magical. Awesome. These are all words senior Zach Vig and freshman Emrys Yamanishi use to describe speech competitions. Vig is on his way out, finishing his fourth year by being nominated to the All-State Festival, while Yamanishi is just starting out.  
"I first joined speech because I was excited to learn how to perform and present on any topic," said senior Zack Vig, who has been in speech for three and half years and has attended every large group and individual speech state competition.
Freshman Emrys Yamanishi first made the decision to join speech because she has been in various different plays and musicals over the years, and has lots of experience speaking in front of an audience. "I have been participating in Odyssey Theater since I was in second grade, and I have been in several community and young adult theater plays as well," said Yamanishi. She has also been on the tech team for several Odyssey and high school productions, and is currently in the spring musical. "I've been acting for a long time, and it just seemed like an obvious decision to do speech as well. I also have many friends in speech, so that was a large motivating factor for my decision," Yamanishi added.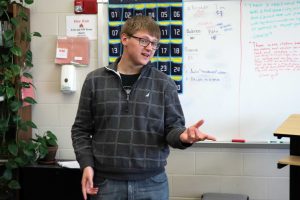 "My best performance in high school is probably the performance of my Public Address piece at this year's district competition," said Vig. "Throughout my entire event I felt very relaxed and confident. I do not remember stumbling a single time, and the judge had almost no negative comments." Vig performed in that event at State as well.
One of Yaminishi's favorite things about speech is that she has the opportunity to try new things that push her out of where she is familiar or at ease. "Spontaneous speaking is largely out of my comfort zone, but it is exhilarating to push myself through each time, no matter how nerve-wracking it may be," said Yamanishi. "My favorite thing about speech, though, is that I get to act with people who I wouldn't normally act with, and we get to create characters together and really have fun."
One thing Vig loves about speech is how the hard work he puts into preparing his performances really pays off. "My favorite thing about speech is the awesome feeling you get when you perform a speech that you've worked so hard on for so long," said Vig. "It is very rewarding." Vig would like to do speech in college, but believes it will pale in comparison to the experience that IHSSA speech has given him.
Vig did very well at the State Speech competition, receiving an I rating from all three judges, and his After Dinner event was chosen to move onto the All-State speech festival. "The biggest example of my improvement is in After Dinner," said Vig. "I have done After Dinner all four years of high school, and ever since my first topic of LARP in the Olympics, my topics have only gotten more mature and funnier. Finally, after four years, I have made it to All-State in this category." Vig will also be performing in a public showcase with other MV and Lisbon speech students who will be performing at the All-State Individual Festival. The showcase will take place on March 25 at 1 p.m. at Lisbon Heritage Hall.
According to Yamanishi, she has improved in many ways during her first year in speech. "I have become louder, more confident with my acting, and developed public speaking skills through spontaneous speaking for individual speech. I have also improved in my range of emotions while acting. I especially developed my sadder and more intense emotions in reader's theatre where I played a young, bullied girl," she said.
Yamanishi has improved her memorization skills and public speaking skills, as well as learned to be more comfortable with stepping outside her comfort zone and has gained confidence in herself. "The public speaking skills I gained from spontaneous speaking and the argumentative skills have helped me in English, and the awareness I gained on current issues in our world because of spontaneous speaking have helped me in social studies," said Yamanishi.
According to Vig, speech prepares you for life in the real world, teaching basic social and life skills. "I have learned a lot in speech, but overall I am happy that I have learned how to simply express my ideas to other through words and actions," said Vig. He believes that the skills he has learned in speech will apply to any future career he pursues.
Yamanishi is looking forward to participating in speech in the future as well. "Over the next few years, I am looking forward to trying out different events with different people," said Yamanishi. "This year, we had a freshman team and an upperclassmen team, so I was in events with all my friends and no one else. I'm excited to try being in groups with people I don't know as well."
Vig said he will really miss the opportunity to perform. "I love preparing a piece to eventually perform for an audience," said Vig. "Although I do not think I am done performing forever, I do think that speech brought something truly unique to the performance world and I do not think I can find that anywhere else."