Gore-geous Jessica
The room is dark, illuminated only by the movie screen playing a horror classic. One of the characters cries out after being killed. Somewhere nearby, a movie-watcher groans. That person is senior Jessica Belding.
Generally unimpressed with the depictions of blood and gore in Hollywood today, she will create the perfect horror movie that is "sophisticated but not proper." According to Belding, the prime example of such scenes being executed well is a psychological-thriller series called Hannibal. "It's done in an artistic way. Not just, I'm going to kill someone," Belding said, "I think (gore is) better done in an artistic way, but still gruesome."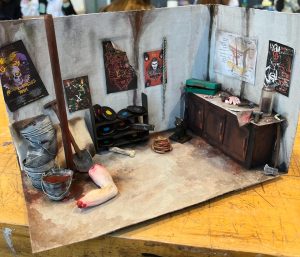 In the meantime, Belding pours her creative energy into her work for her Senior Art Portfolio class. The piece she is most proud of was the last one she made in the semester. Belding had three days to complete her last piece in time for the Scholastic Art and Writing Competition, where she went on to win Honorable Mention. She quickly crafted an intricate model of a torture basement by hand. Belding estimates that she spent 30 hours over those final few days before the deadline.
Belding's artwork has been displayed in the Performing Arts Center Lobby throughout the semester. Two of her other favorite pieces are acrylic paintings. A knee with a dozen nails piercing the skin distributed evenly around the joint set against a dark black background. A hand wearing someone else's skin comfortably, like a glove. Belding is careful to create art that reflects her beliefs in showcasing pain correctly.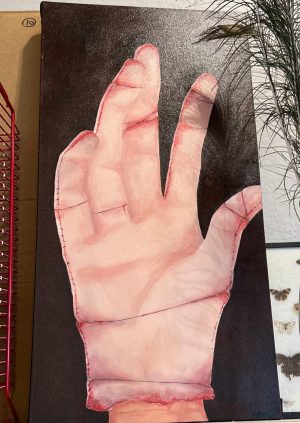 Down the road, Belding plans to receive higher education, learning to be a director. She wants to be able to produce the perfect horror movie. In her opinion, no director continuously generates adequate films, they are all "one and done." Luckily, Belding has all the workings to make an exquisite film. She has collaborated with two of her closest friends, a writer and an actor, to design a character and a plot.
Jun is a serial killer who takes his victim's skin and bones and creates new items with them. "He has been my favorite character out of every character that has ever existed for a long time," Belding said of her creation.
Someone who has such a passion for this style of movie must have some favorites. Belding, in fact, has a list in her Notes app of all the movies she watches along with ratings. Her top three movies, in no specific order, are Ichi the Killer, Evil Dead Trap, and Level 16. However, partaking in these movies is not for the faint of heart. They are intense psychological thrillers with gory depictions of death.
But if Belding believes they are done well, the films are worth the watch, she is an expert after all.