The Final Season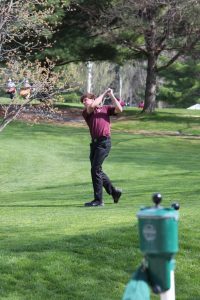 Drew Wolfe has high hopes for the season
By Austin Ash
One practice swing and then he lines up his shot. Another practice swing and then he addresses the ball. He takes a short back swing, then makes contact with the ball and ground. The tiny white thing skies into the air and looks as if it won't come down. The ball sticks about 15 feet from the hole. A perfect placement from the veteran. Drew Wolfe, senior, loves the game of golf.
Wolfe spends hours perfecting his game at Kernoustie Golf Course. Some days in the summer he gets there while the sun comes up and he leaves when the sun is on its way down. Wolfe is never satisfied with his game; there is always something he can work on to improve. The key to golf is consistency and that is what Wolfe tries to maintain. Wolfe has worked his way up the ladder during his four-year career at Mount Vernon. He has consistently gotten higher in the rankings and this year he is the number one player for the Mustangs. Wolfe has been to the state golf meet freshman, sophomore, and junior year, and he is looking to make another appearance this year.
His favorite state golf memory is last year at state when Tommy Hook took a bath with his golf clubs. Hook's clubs needed a wash for the big upcoming meet, so he decided to wash his clubs in the bath while he was in there. Also, when Jake Hansen ate a whole box of gushers by himself. The team, along with Wolfe didn't think the task was doable, but Hansen got it done.
Wolfe has many goals for this upcoming season, but one stands out more than the other. A goal of his has been to place top 10 at state. It is a very hard goal to achieve but Wolfe has the talent to do so. Last year he placed 16th. He has been looking forward to this season since last year's state meet. In Wolfe's first meet he was the top medalist with a score of 36, which is one over par at Mount Vernon's course. "I played well, I still had some holes I could have done better on, but I'm happy with the outcome of the first meet." Wolfe's score helped propel the Mustangs to victory over Anamosa as well.
At practice and in meets, Wolfe remains calm throughout his rounds. He doesn't let one bad shot ruin his round. He also does the same routine before every shot as well. Not much can distract him from going off course. Wolfe's best round this year in practice is a 33, only a few shots off of the course record. Wolfe has been playing at Kernoustie golf course ever since he was a little kid. He knows the course better than some people know their own house. He knows exactly where to strike the ball on the green. It doesn't take him long to know whether or not he has made the shot. When Wolfe knows the putt is going in he will walk the ball of in an arrogant way that makes it look very easy; however, it is very difficult.
One of Wolfe's favorite memories out at the Mount Vernon golf course is a hole in one. "It is something I will never forget. Hopefully I will have more hole in ones in the future, but I am very proud that I got one before high school even started." When Wolfe was in 8th grade he hit a memorable shot that he will never forget. It was on the ninth hole, one of the hardest holes on the course. It is a 176- yard par 3. Wolfe had played that hole plenty of times, but really never been that close to a hole-in-one. Wolfe got his picture in the paper, and achieved a goal that some golfers never achieve in their whole career.
Golf can be hard to play sometimes here in Iowa. The weather only permits golfers to play in certain months throughout the year. Wolfe knew he needed to get stronger during the offseason so he could get more distance on his shots. So Wolfe spent countless hours in the weight room, working on his strength and staying in shape for the upcoming season. He also went to indoor places to hit and work on his game. There are facilities in Cedar Rapids where you can hit into a simulator and it tells you how far and how straight your shot goes. Wolfe went there occasionally when the weather did not allow for golf to be played. He sharpened up his swing and got into the groove for his final season.
Wolfe plans to attend Creighton next year for college but golf still isn't out of the picture. He may not be on the golf team, but he plans on playing golf for the rest of his life. Golf is one of the only sports in the world that you can play into your 60's and 70's. Wolfe plans to join a league when he is older and maybe teach his future children how to play.
Wolfe has had many experiences at the Iowa State Golf Meet but is looking for a much more memorable one this year. The Mustangs have nine more regular season meets then it will be on to the postseason. It will be very exciting to follow him in his last season as a Mount Vernon golfer.