Pendergrass Earns Cash at Kernoustie
It's summertime and the hot sun blares down on this open field of nearly 3,000 yards of grass. Here, there is little shade to reduce its powerful rays – there are few trees to stop it from reaching the ground. Although the heat is record-breaking and the days are at their longest, that's not going to stop junior Kayden Pendergrass from getting his job done.
Pendergrass, who is also a member of the Mount Vernon golf team, works at the Kernoustie Golf Course in Mount Vernon and has been mowing the course greens since he was hired this past March.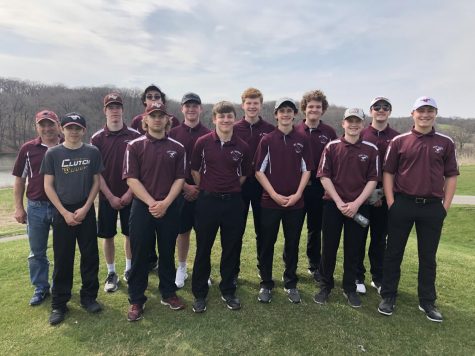 Being a part of the golf team played a pivotal role in Pendergrass' employment. Golfing and practicing at the course so often over the past summers helped Pendergrass learn of a couple of job openings there. After talking to Mark Kerr, the owner of Kernoustie, Pendergrass was hired as a course maintenance worker.
In this role, Pendergrass mainly mows the course's greens, but he also takes care of any other work needed to be done on the course – like moving equipment or cleaning up the course. Overall, his favorite part of his job is mowing the greens. "It's very satisfying to watch," Pendergrass said.
Pendergrass has always enjoyed working at the course, but working over the summer came with its own set of challenges. Challenges such as long days in extremely hot weather, and having to wake up fairly early in the morning. Now that fall is approaching, Pendergrass said he's feeling better about his job.
At the end of the day, Pendergrass has had a great experience working at the Kernoustie Golf Course. He has even been able to buy himself a new pair of golf shoes with his earnings from his job there. But Pendergrass says that the best part of his job is the "satisfaction of providing for the community members."