Back to Back: Cross Country Team Wins State by Unbelievably Narrow Margin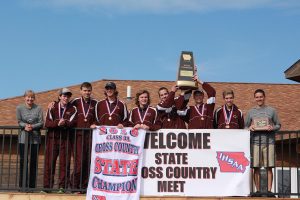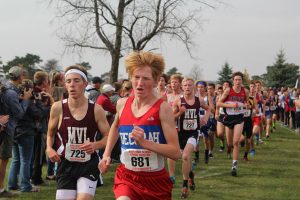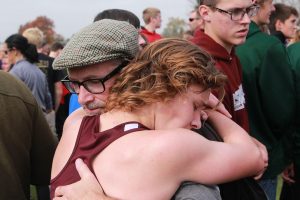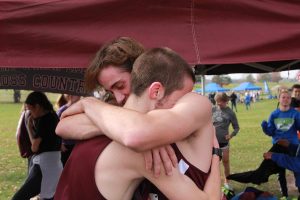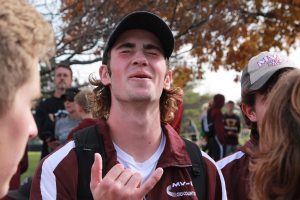 By Ben McGuire
Last year the cross country team entered the state meet with one thing on their mind — revenge. They got it by winning the state meet with a huge victory over Grinnell, after a heart-breaking runner-up finish to Gilbert in 2014. But this year the task at hand was far more daunting; the team entered the final meet with a huge target on their backs.
Mount Vernon-Lisbon won both the Wamac Conference title and district titles. They were able to do so through phenomenal senior leadership from Jack Young, Liam Conroy, Chase McLaughlin (Lisbon), and brothers Zach and Jeremy Krogmann.
Young has been a staple since he joined the team as a freshman. He was consistently a top finisher in races this year and earned several accolades, including second team all-state in 2015, and third team all-state in 2014. Young's performance at the state meet was not typical, with a time of 18:04, compared to his state finish of 16:50 last year. But his teammates, a solid group of runners who each qualified as individuals for state, were able to claim the state title with their own outstanding performances.
"If anyone deserves to have a bad race and get away with it, it's Jack Young. He's done so much for all of us throughout the years," said Zach Krogmann.
"My teammates are my brothers to me," said Young. "I was really proud of my teammates, showing that we were the best team in state, bar none."
Coach Kory Swart couldn't say enough about Young. "He's been a vocal leader, a leader by example, he runs hard all the time and pushes other guys along with him. He's going to be hard to replace. He exemplifies everything we represent with MVLXC."
The race left room for others to step up to the plate. Zach Krogmann finished fifth for the team with a time of 17:07.3 and was able to solidify the narrow victory. "I ran a lot more this summer than I did last year, and was able to have a handful of good races this season. And at state Jack didn't have his best race, and I happened to be the fifth guy. It just shows how deep we are."
With the race over the team knew if they won it would be close. The wait for the results was very nerve-wracking. "After the race last year we had a pretty good idea that we'd won, but this year it was the longest 15 minutes of my life. I was about to have a heart attack," said Conroy, who finished fourth on the team with a time of 16:58.8. With 86 points, the team managed a meager two-point victory over Grinnell, whom they beat by 31 points last year. Dallas Center-Grimes came in a distant third with 142 points.
Junior Thatcher Krob led the team and finished eighth overall in 16:33.3. Garrett Herring was 16th overall (16:48.9), followed by McLaughlin (17th, 16:40.9), Conroy and Zach Krogmann.
The Cross Country team had a rollercoaster of a season, but were able to accomplish their goal and bring home the big trophy for the second straight year.
CLASS 3A BOYS TEAM RESULTS
PLACE    TEAM    POINTS
1 Mount Vernon-Lisbon 86
2 Grinnell 88
3 Dallas Center-Grimes 142
4 Gilbert 162
5 Pella 173
6 Marion 184
7 Decorah 191
8 Xavier, Cedar Rapids 205
9 Mount Pleasant 208
10 Carlisle 228
11 Humboldt 255
12 Wahlert Catholic, Dub 262
13 Sergeant Bluff-Luton 266
14 Clear Creek-Amana 282
15 Bishop Heelan Catholi 286