A Long History Together: Father Coaches Son and His Classmates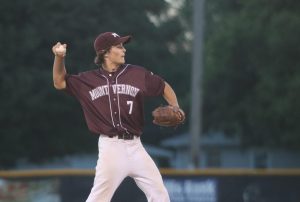 By Nolan Brand
The Elliott love for baseball was passed down on the diamond from coach to son.
"I've been around the team and started watching and learning at a very young age," Tyler Elliott said. "I used to love hitting with him and running bases after the varsity games growing up," Tyler said of his dad, head coach Jeremy Elliott. "He's been with me every step of the way always willing to help me improve and better my game."
With Tyson Dew as the only senior, Tyler's junior class encompasses 70 percent of the team. It's a group Coach Elliott has a long history with.
Throughout elementary and middle school Jeremy coached Tyler's class in little league games.  "With this junior class we were able to create a good foundation and skill level and most of the guys stuck with the process and stayed out," Coach Elliott said.

But after helping the Mustangs to a 12-8 record, Tyler fractured a bone in his foot during a football practice, and was forced into a new role of a leader from the dugout. "This year's different, I've had to be a more vocal leader and get on my teammates more by being more active and keeping them focused," Tyler said.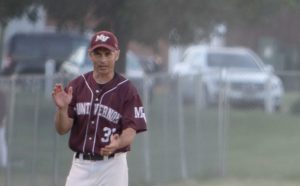 Without Tyler the team ended with a losing record heading into the postseason, showing just how much he meant to the team.
"He brought a lot of stability to the team on the field, and when he was unable to be on the field we experienced some growing pains that hopefully we're working out now," Coach Elliott said. In the first 20 games Tyler was one of the conference leaders with 22 hits and a 0.379 batting average.

"The best thing about coaching Tyler is that I get to participate in the sport that he enjoys the most, and whenever it may be that he's able to come back and compete on the field for us we'll take him," Coach Elliott said.