An Iowa Tradition: 6-on-6 Women's Basketball
Hang on for a minute...we're trying to find some more stories you might like.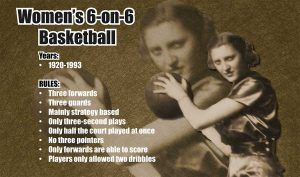 Video created by Mount Vernon sophomores Jace Delancey, Jeremy Kline, Megan Zobac, Paige Emig, Kailey Shannon, and Sam Stoner
In Iowa, women's basketball began with 6-on-6. The fast-paced game was created to give girls a separate athletic outlet from boys. For girls, the court was divided into two halves, with three players from each team per half, because it was thought that girls could not handle the physical demands of 5-on-5 basketball.
The girls' game only allowed a player two dribbles before passing the ball off to another player, and after a basket, the ball was given to the opposing team at half court. The first state championship for girls' 6-on-6 basketball was played in 1920 and continued until 1993 when all school moved to 5-on-5 girls' basketball.
In Mount Vernon, the last 6-on-6 team played in 1985. The 1985 team was coached by Jim Bellamy, and the girls won Conference and Sectionals, falling at Regionals.
This video is one of a series created by high school students for the Smithsonian Institution's Museum on Main Street exhibit Hometown Teams: How Sports Shape America which will be on display at the First Street Community Center in Mount Vernon, Iowa, from March 18-April 29, 2018.