Marching Mustangs Compete with Moonwalk Show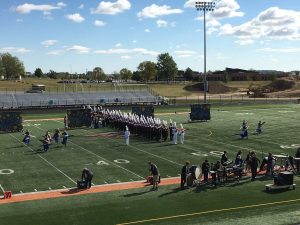 By Maddie Naeve
The Marching Mustangs spent most of their Saturday preparing and performing at the Bands Across the Prairie competition. The competition was held at Prairie on Sept. 30. The band placed second in the class 3A division with a score of 74.20. Drum majors senior Tori Steiner, junior Quinnie Rodman and sophomore Kode Banwart won a Caption Award for Best Drum Majors for their performance.
The band competed with seven other schools. To the Marching Mustangs, band competitions are not only about trying to outperform the other bands, but it is also the experience of seeing how other schools perform. Everyone in the crowd is there for the sole purpose of seeing a performance, so the members of the band feel supported and therefore more confident.
"When going into a band competition we are most confident about giving the audience a really exciting show," said Rodman. "We have a lot of passion and energy, and it really shows in the way that we perform." That passion is what bonds the band together; they are all working for a common goal. Members of the band make a connection with others and gain trust that allows them to work even better together.