He's A Keeper: The Story of Goalkeeper Ian Bootsmiller
By Ben McGuire
Over the past four years the Mount Vernon soccer program has had it's ups and downs. But one thing has stayed consistent, lockdown goaltending. Senior Keeper Ian Bootsmiller has lead the way with tremendous play, academic excellence and outstanding leadership.
While Bootsmiller has shown tremendous talent in the net, he hasn't been playing soccer for all that long. He started playing soccer his freshman year of high school, despite the fact that his father was a coach and his two brothers played. "I played in kindergarten, but after that I didn't play until high school. I just went to all my dad's AYSO practices and games," said Bootsmiller. Once he reached high school he decided to play after much persuasion from his father, his brothers, and Coach Murray.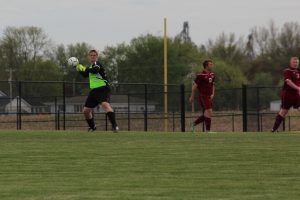 Although he was on the team his freshman year, he wasn't an instant success. He rode the bench his freshman and sophomore year, starting only one game during that time. Bootsmiller used that time to develop his skills and learn under the apprenticeship of current starting keeper Luke Maddock. "He was a great mentor to have, he taught me a lot," said Bootsmiller. "But the biggest influence on me and my development was Coach Sotillo. He was a great coach and had so much knowledge about soccer. He pushed me and Luke to heights we could have never achieved without him," said Bootsmiller. 
Once his junior year came around he was all alone. Luke had graduated and gone on to play collegiate soccer, Coach Sotillo had parted ways with the soccer program, and his own twin brother quit the team. At this time when he was all alone, he persevered and performed at his very best. He snagged an unreal 188 saves and posted a 87% save clip. He was awarded 1st team all conference honors, as well as earned an academic all conference nod. He anchored the defense all throughout the regular season, and earned the greatest accomplishment of his career: leading Mount Vernon to the state soccer tournament for the first time in school history.
While it would be hard to match the team success of his junior year, Bootsmiller continued to put in the work day in and day out, and lead by example. His senior year he was named team captain and expanded his leadership role on the team. "I've been a little more vocal this year than I have in previous years, I've suggested things in leadership council," said Bootsmiller. "Coach Murray and I have been planning things out and communicating between us and the players a lot more this year as well."
With a number of struggles and injuries Mount Vernon posted a 3-14 record during Bootsmiller's senior season. Despite team struggles he once again earned 1st team all conference and academic all conference honors. He was also invited to participate in an all star game this summer.
While he intends to play collegiate football at Simpson, the skills he learned from soccer won't soon be forgotten. "Soccer has definitely helped me with other sports. It's helped my reaction times and footwork for football. But the leadership skills were definitely a takeaway," said Bootsmiller
During his career Ian Bootsmiller totaled hundreds of saves, but he won't be remembered for them. He'll be remembered by the hard work he put in each and every day. He'll be remembered for all the friendships he made, and the memories that came along with. He'll be remembered for the impact he had on his teammates, how he pushed them to get better and work hard, and how he led the way when no one else would. That's how Ian Bootsmiller's career will be remembered.