An Outstanding Recovery – Alina Merlak comes back after an awful femur break.
By Catherine Yeoman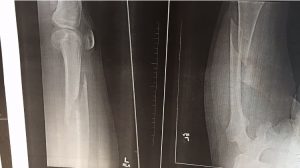 Alina Merlak was having a successful freshman varsity soccer season. She was a starting forward for the Mustangs. She was the second best scorer for the Mustangs and was a key to their success. Her season was going great until a hot day in May where she acquired an injury that would take her out for almost a year.
Merlak attended a Kansas City soccer tournament in May of 2016 with her club team called CRSA. During the final game of the tournament, she was dribbling the ball past a defender getting ready to score when she tripped and fell landing wrong on her left leg. Merlak tried to get back up but fell in excruciating pain. Looking down at her leg, she noticed it did not look right. There was a large bump at the end of thigh right above her knee. Coaches rushed on the field to address her injury. The coach thought that she just needed to get tougher and finish the game, but a teammate's father, who happened to be a doctor, came onto the field and informed them that she needed to be taken to a hospital.
Merlak was transported to a hospital in Kansas City by an ambulance. There, X-rays were taken of her leg. The X-rays showed that Merlak had snapped her femur in half. That day, surgery was scheduled to place a rod in Merlak's leg with screws to keep it in place.
The feeling of devastation came across Merlak as she realized her season was over. She was worried about her high school coach being mad at her since she wasn't supposed to be playing club. But Merlak was mostly upset about not being able to finish her season. Merlak knew that she would have to go through a lot to come back from this injury but she was more determined than ever.
Merlak remembers waking up after her surgery and being very discombobulated. To her, it seemed like much more time had passed than only a few hours. "I remember waking up after surgery and thinking that it was the next day and being very confused," Merlak said. It had already been a very long day for her, but she had yet to endure the five hour drive back to Mount Vernon that night.
The next year would be the toughest year for Merlak emotionally and physically. She missed school the first week after her surgery and came back in a wheelchair.
Three weeks after her surgery, Merlak started physical therapy. At first, her physical therapy consisted of mostly the doctor moving her leg around for her, trying to get the muscles used to moving again. After Merlak was able to transition to crutches, she was able to start putting some pressure on her leg. Besides trying to walk again, part of Merlak's therapy was using multiple machines to help work her muscles and get her mobility back. Even after doing all that, her leg will never be back to what is what before. Along with the surgery, her leg acquired nerve damage, and recurring pain in her hip.
Going beyond her physical therapy exercises to help her come back quickly, that summer, she worked at the Mount Vernon Swimming Pool. She was able to get in the water and help teach swim lessons. "Being able to get in the water and to stand while putting minimal weight on it plus swim around a little was able to help me come back faster," Merlak said. As soon as she was able to, Merlak would go outside and get some touches on a soccer ball. Day after day, Merlak would go to her backyard practicing her dribbling and also trying to get back into shape by going for walks and then in August she was able to start running again.
All this helped Merlak be ready for her sophomore soccer season. Coming back from this type of injuring was no easy task for Merlak. Her first official soccer game since the surgery playing for the Mustangs was on April 7, against the Marion Indians. The Mustangs won 2-1. Merlak scored one of the two goals for the team. One of many ambitions for Merlak for this season is to not get hurt and hopefully help the Mustangs get far in the postseason.