Recreation Center May Be Built on School Campus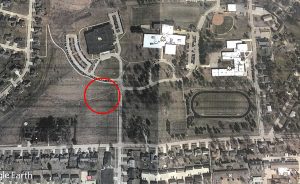 By Blaine Schumacher
Mount Vernon High School could be potentially getting a recreation center right in its front yard. The project was discussed in the school board meeting held on Monday, Feb. 13. The topic attracted a much larger crowd than the typical meeting with close two dozen people filling the seats of the high school library. The board members listened intently to a description of the project presented by Chris Nosbisch, the city administrator of Mount Vernon.
While the building plans are still being designed by architects at OPN, Nosbisch stated that the Mount Vernon public could expect to see a mini indoor track, workout equipment and space, and also the possibility for not one, but two gyms. The idea as of now is to not include an indoor pool in the first phase of construction. However, it was made very clear that a pool would be part of the second phase of construction once the funds come in.
The architect firm designing the center thinks that it would be most convenient to build in the lots across from the Mount Vernon High School. Since the school owns those lots, Nosbisch stated that the school could definitely negotiate with the city to get many benefits from the facility. "We are in desperate need for gym space," said Steve Brand, principal of  Mount Vernon High School. "We could use this space for not just our athletes, but work studies, internships, volunteerism, J-term. It's a huge opportunity that we need to take." Brand also suggested the idea of there being a possible student discount on memberships and also how the facility may allow students to use its parking lot as part of the negotiation.
The idea for the Recreation Center caused great excitement among the members of the meeting and no one said any reason for why the project should not take place. "We want to be comfortable making this decision," said Superintendent Gary O'Malley, "We talked awhile on whether we want to sell the land, or donate it," O'Malley said, but he wants to be sure that the community is comfortable with the decision.
Nosbisch discussed the project for the majority of the meeting and pushed for a decision to be made within the next three months. If the plan passes, Mount Vernon could expect construction to begin as early as the spring of 2018 and finish in 2019.