Iowa Football Recruit Grapples with Wrestling Weight
Video by Gavin Riedesel, Brian Harris, Ben McGuire, Aiden Frantz, and Reagan Light. Tristan Wirfs, a senior at Mount Vernon High School, signed on to play football for the University of Iowa Feb. 1, 2017. Wirfs is a three-sport athlete, currently wrestling heavyweight. He had to drop over 30 pounds from his football weight to wrestle this season.
Story by Blaine Schumacher
The Mount Vernon High School Commons was filled with dozens of anxious students, coaches, staff, and family members Wednesday each trying to squeeze their way through the dense crowd of people waiting to watch senior Tristan Wirfs sign on to the Iowa Hawkeyes football team. "Thank you guys for all coming out," Wirfs said. "I know you guys all have stuff to do, but I have a lot of people to thank for getting me to where I am now my coaches, coach Pedersen, coach Haddy, my baseball coaches, track, wrestling, and my family."
Wirfs approached the audience and thanked everyone for being with him in his life-changing moment and also for all the support everyone brought with them. Wirfs then signed himself on to officially join the Hawks wearing number 74 this fall.
For Wirfs, football was more than a passion for him. It was his dream, and with hard work and dedication he made his dream a reality. As only a sophomore in high school, Wirfs had already been offered two scholarships from Iowa and Iowa State. However after a visit to Michigan State, Wirfs' decision on which school he wanted to attend was easily made. "I committed to Iowa after I got back back from Michigan State," Wirfs said. "Some places are going to tell you what you want to hear and some places tell you what you need to hear and Iowa is one of those places who tells you what you need to hear."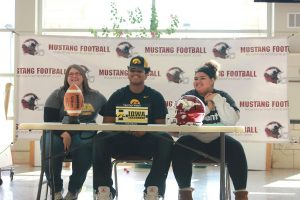 For any Iowa football player, attention is something that comes with the package and Wirfs is no exception. "I like the attention, I'm a pretty outgoing person and I like to get out there and meet new people," Wirfs said. "At wrestling tournaments people come and congratulate me and at track meets and at the mall which is pretty cool to me. People look on TV and see celebrities but I'm not a celebrity, people just like Iowa football." However, Wirfs said that the attention isn't just for him but also for the town he grew up in as well.
"It all just helps put Mount Vernon on the map. People know who we are now. For a while Mount Vernon wasn't very good at football but when coach Pedersen first got here and the grade that was ahead of us and my grade; we changed that and we turned things around." With the arrival of Mount Vernon's new football staff, Mount Vernon ended a six-year losing streak to winning the past three seasons under the direction of head coach Lance Pedersen.
"Coach Morgan at Iowa says that a lot of kids change during the recruiting process and says I haven't at all which is good," Wirfs said, "and I don't feel like I have either. I think I've been that same person that I've been before they started recruiting me. I've just been building relationships with them and they make me feel that this is the right place for me even more."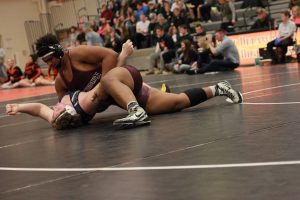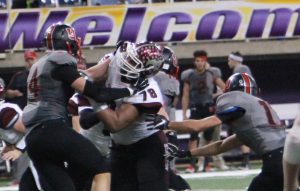 Wirfs is excited to start his career at Iowa, but he said he's determined to not let it get in the way of the sports he's currently enrolled in. "It's senior year; I'm trying to focus on the sports I'm in now and then when track is over I have two or three weeks to try and get back into somewhat of shape before summer works." Wirfs is wrestling at heavyweight where he had to drop 30 pounds after the football season. He plans to throw shot and discus this spring in track. He went to state competition in wrestling and track last year, and is the 3A shot and discus champion.
With summer workouts starting on July 5, everyone in Mount Vernon is excited to see how their very own Tristan Wirfs will succeed in the Hawkeyes next season.