Mount Vernon Stands Together in Display of Unity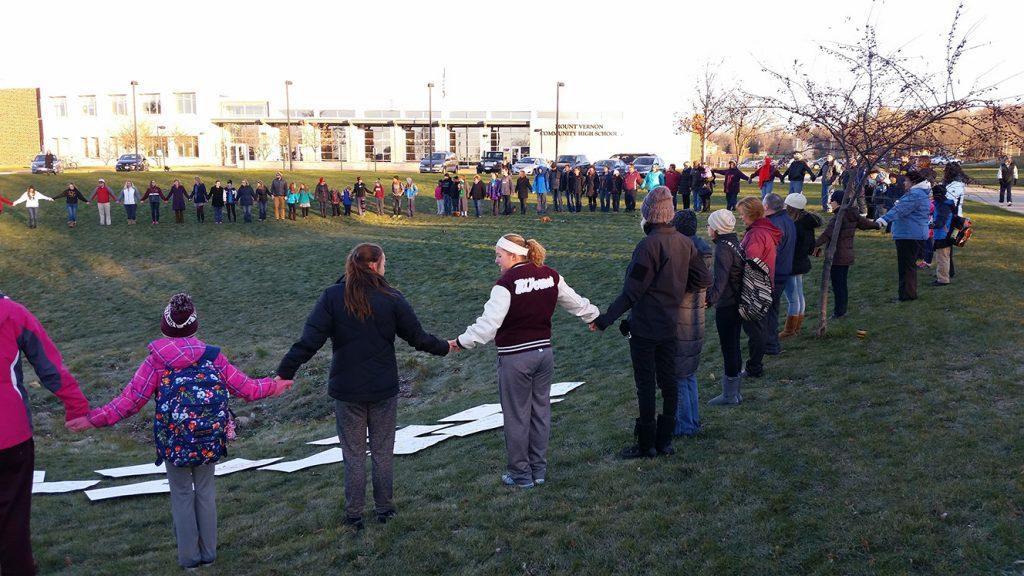 Video by Emily Tvedt.
By Sydney Hauser
It's not a protest, it's not violent, nor is it exclusive. It is a meeting, it is silent, and it is beautiful. Students, staff, and community members stood together before school on Nov. 21 at Mount Vernon High School in a non-political gathering in order to show others love, support and unity.
Students in Leigh Ann Erickson's African American Literacy class wanted to do something after learning about the issues our country is currently facing.
"The students have been learning about a divided country," said Erickson. "They expressed a desire to do something, and I proposed this idea and they liked it." After agreeing on the idea, students spent two days in class planning and advertising the event. This included making posters, hanging up flyers around the town, creating a Facebook group, and finding volunteer opportunities for those who would be attending the gathering.
"I was nervous along with the rest of the class because we were unsure of the turn out and how interested the community would be," said junior Katy Bellamy, an African American Literature student. "But it turned out to be a success, so I feel that our class did something good."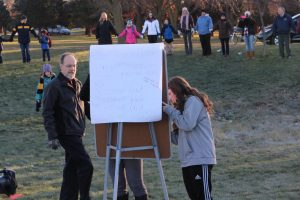 Around 150 students, teachers, parents, and community members met in front of the high school Monday morning. A few remarks made by Erickson were followed by silent hand holding in a large circle. Participants could break away from the circle and write kind, hopeful, or inspirational messages on a paper in the middle. People joined the circle as they arrived at the school.
"I went because is was a nice way of showing solidarity in the community," said freshman Adrian Dale. "It was also a nice way of showing union without being political in any way."
All members of Mount Vernon were invited regardless of race, religion, sexual orientation, or political views. It was a way to unify all, no matter the differences.