School Bond Does Not Pass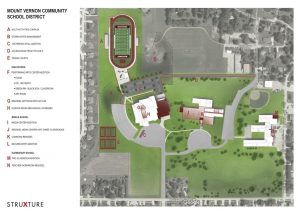 By Blaise Anton
Mount Vernon's proposed school bond vote resulted in an overwhelming "no".
The community members voted on Tuesday, Sept. 13, regarding a $15.9 million bond. The proposal included providing funds to many remodeling, construction, and additions to the high school. Voters were asked to simply vote yes, or no.
Sixty-three percent of voters decided no, while only 36 percent said yes. Needing a 60 percent majority to pass, the bond will not move forward.
Though they were the minority in this election, the 693 voters who voted in favor were hopeful to receive the current parking at MVHS, the construction of six new tennis courts, new athletic field benefitting football, soccer, and marching band. A new all-weather track was also proposed for the multi-sport complex. The middle school is also in need of many improvements and updates.
While the voting age demographic of Mount Vernon may have said no, students and staff at Mount Vernon High School previously indicated on a Twitter poll conducted by The Mustang Moon the day of the election that they were in favor of these improvements. With an almost completely opposite result, 65 percent of the 109 poll responders had been in favor of these changes while only 29 percent had been opposed, leaving eight percent undecided on the issue.
High school principal Steve Brand, said that he feels that we missed an amazing opportunity to make improvements to our district. With the bond being voted down, Brand said  "We'll now be forced to choose and prioritize between academics, fine arts and athletics" as far as funding goes.
There is a chance that there will be a new opportunity to vote on another bond, but the minumum amount of time that must pass before another vote is six months, which gives voters time to reconsider the necessity of these changes. The new proposal will likely be a smaller sum of money, and many people are hoping for more refined ideas with a more detailed description of what would result from a "yes" vote.
| | | |
| --- | --- | --- |
| Mount Vernon Voter locations | Yes | No |
| City hall | 523 | 992 |
| Absentee | 170 | 232 |
| Totals | 693 | 1124 |
| Percentages | 36.13% | 68.82% |