MTSS at MVHS
By Sydney Hauser
The stress of failing a quiz, the frustration of not understanding a lesson, or crunching for homework time are all things many kids at Mount Vernon are all too familiar with. But imagine having just a little bit of that weight lifted off the shoulders before the weekend begins. Unlike previous years at MVHS, students have an 85-minute period at the end of the week known as MTSS or Multi-Tiered Support System to go to teachers and get help.
"We wanted to give more time to students that are involved in multiple activities to makeup tests and quizzes. Also to allow support for students who need that extra time to work with their teachers outside of class," said principal Steve Brand. And that's exactly what they're getting.
"It gives me options so I don't get behind, and it allows me to understand at my own pace," said junior Mckenzie Hartl. Hartl and many other students at MVHS are involved in multiple activities that take up time after school. Before, this was one of the only times students could meet up with their teachers.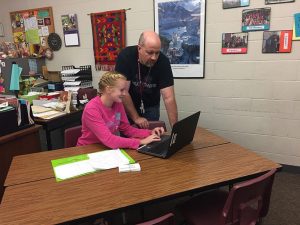 "I find it beneficial because I am able to ask my teachers questions one on one and get some homework done before volleyball practice," said freshman Lauren McCollum.
Although this was an easy transition for the students, it's was quite an adjustment for the staff. They had to give up class time in order to squeeze in the extra period. And it seems, for the most part, to be very beneficial not only to students, but the educators too.
"This time is useful for teachers to connect with all students," stated science teacher Jan Henik. "It is individualized instruction at its best." And not only can students go into classrooms and review, reassess, or get retaught, they can also learn things they wouldn't get taught in a regular class.
Heather Allen of the science department offers a session called "What's New In Science" where any student can show up and learn about new discoveries and inventions in modern day science.
"This is a chance for students to extend their learning," said Allen. "And have conversations about what is new and interesting in the realm of science."
Math teacher Beth McCollum offered students an opportunity to prep for the math portion of the ACT. She said many kids have asked her for help to improve their scores.
"I know a little bit of practice can have a big impact on a student's score and I want our students to score as well as they can on the ACT," said McCollum. "I want our students to have as many post-high school options as possible."
The new MTSS time can be very helpful to all students as long as they make the most of the opportunities their teachers are providing for them. This period could be just what students need for better connection, extension, and improvement of their learning.