More Than Records
Longtime area coach no stranger to success as athlete
By Maggie Davis
Along the south wall of the UNI Dome in Cedar Falls, Iowa, hang a number of plaques dedicated to inductees into UNI's Hall of Fame. One such plaque was added in 2012, denoting a three-time All-American track and field runner who graduated with 11 school records, one of which he held for 28 years.

One of many along this wall, viewers may not at first glance consider it any different or more special than the other plaques around it. No national title. No world record. No Olympic medal.
What the plaque doesn't tell you is the story of a scrappy little kid learning to play sports with the other neighborhood kids. Starting life at a jog, and then learning to run. Run from his alcoholic father, run from his broken family, run from frustration and anger. And then learning to sprint. He saw success and had Olympic dreams in a career of ups and downs that ended rather abruptly for a runner of his caliber, but in the end he found the peace that comes with knowing he'd left everything he had on the track.
Dennis Roloff wasn't a particularly great athlete. Sure he played some on the football team, enjoyed baseball and softball, and came in second or third at a middle school track meet, but he wasn't exactly the next Jesse Owens. Growing up in a divorced family in Cedar Rapids, Iowa, money was tight, and Roloff's mother didn't have the money to send him off to sports camps or clubs. Instead, Roloff spent his afternoons playing softball and basketball with the neighborhood boys, many of whom happened to be very talented athletes. Unbeknownst to him, these afternoons would lay the foundation for his future athletic career.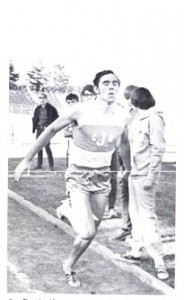 People often say that a lot can happen in a day, or a year, or a month. A lot can happen in 420 yards too. The spring of his 9th grade track season, Roloff's coach timed him at what both believed to be the 440 yard sprint. (now the 400m) Clocking in at a very respectable 57 seconds, Dennis' coach was convinced he had some speed on his hands. However the next day he came to realize that his measurements had been incorrect, and Roloff had run about 20 yards shy of a full 440…so he ran him again. Fifty-five seconds later, Roloff had found his race.
For the remainder of that year and the next three no one could catch him. Dropping an average of three seconds per year, he went undefeated in the open 440 his freshman, sophomore, junior, and senior years. Roloff also broke the Jefferson High School record twice, setting his second mark at 48.3 seconds-a record still untouched today, more than 40 years later.
Competing in track and field continued into college for Roloff, and despite multiple recruiting options, he chose to remain in state, deciding on the University of Northern Iowa for their industrial tech program and coaching staff.
"I had a tremendous coach…he got me in shape and it was…pretty amazing."
In similar style to the four years prior, Dennis Roloff sprinted straight into collegiate track and field, cracking out a 46.8 second 440 and qualifying for the 1972 Olympic Trials as a freshman in college.
Track and field for Roloff, however, was not all records and medals.
"I was a puker. 
I'd get so nervous and run so hard that I threw up 
after almost every race. Eventually I just quit eating 
on meet days and stuck to liquids."
"I was a puker," he recalls, grinning just a bit, "I'd get so nervous and run so hard that I threw up after almost every race. Eventually I just quit eating on meet days and stuck to liquids."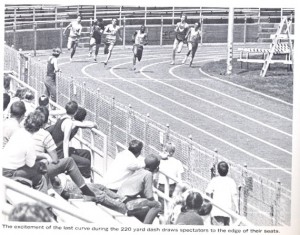 Steve DeSerano, a former teammate of Roloff's who competed with him on several relays, laughed when asked about Roloff's running habits. "Dennis really pushed himself. He ran every single race as hard as he could, and it really pushed the rest of us too…we worried about him though…throwing up all the time."
The remainder of his career at UNI progressed well until his senior year. Having headed south to run in preparation of his final season as a collegiate athlete, Roloff returned fine tuned and ready to go. However disaster struck at an indoor meet early in the season. Roloff was cruising through one of the occasional 800s he ran, when another runner in the pack caught the back of his ankle with a spike. Luckily the achilles tendon hadn't been hit, but Roloff was out for the next few weeks. Having come back from numerous injuries here and there throughout his time as a runner, Roloff recovered and intended to push on.
Outdoor season came and he was entered in the open 440 in another early meet. Starting strong out of the blocks he sprinted the back straight and headed into the curve.
Only he couldn't turn.
Crashing into the wall at the edge of the track, Roloff registered an excruciating pain in the arch of his foot. His plantar flexors had popped.
He was out again.
In what was supposed to be the peak of his collegiate career, Roloff sustained two major injuries, and though he returned from the second one to place ninth at nationals, he shakes his head in recollection of the season.
Not yet ready to give up, Roloff headed to Illinois after graduation to run for the University of Chicago Track Club. It was another Olympic year, and he had one more shot at qualifying to compete for the red, white, and blue.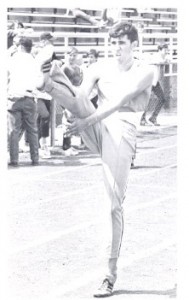 Quick and painful, out of nowhere, a pulled hamstring closed the last door on his Olympic dreams and track and field career.
He had left UNI with 11 school records, his fastest open 440 holding the record for 28 years at 46.23 seconds.
"You always think you can do better," Roloff reflected. "I trained and I trained a lot. In the summer I'd always go out and play some softball and basketball….but every night I'd always go out for a four or five mile run."
Even back in high school Roloff had developed the habit of following every practice with two sets of stadium steps.
"I musta had some talent…but hard work pays off for anybody."
His involvement in athletics continued in the form of coaching. Roloff began as an assistant under Larry Niemeyer for the girls' basketball team at Cedar Rapids Jefferson. After 12 years, in 1991, he took up the head coaching spot for Cedar Rapids Kennedy's girls' basketball team as part of a 21-year tenure in which he led the Cougars to the state tournament five times in class 4A, and left with a 21-year record of 314-165. During his time at Kennedy he also coached boys track and taught industrial tech. Currently he's the head coach of the Mount Vernon girls basketball team and has led them to the 2A state tournament twice since taking the job in 2011. Roloff also volunteers with the Mount Vernon boys track team.
Roloff said that he doesn't expect all of his athletes to become All-Americans, just that they give 100 percent every day. He's also a fundamentals coach, having spent almost a decade of his life trying to shave off seconds and save inches any way he could.
"It's the little things that help runners…you lose two inches a step, that might not seem like much after a few steps, but throw a 400 in there and how many inches have you lost?"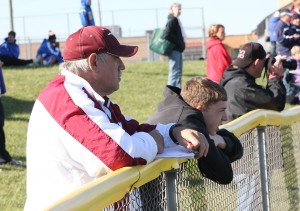 Lastly, Roloff stressed the importance of his team. Throughout high school his coach offered him multiple opportunities to run the open 440 at the state meet, and probably win. Roloff however refused, preferring to run relays with his teammates. Even collegiately he still liked relays best-running with his team, for his team.
Running became a way of life for Dennis Roloff. Dealing with stress or anger, he found himself out on the roads, able to escape for a mile or two…or ten. He points out that much of his success is due to fantastic coaches and teammates, as well as plain old hard work.
For him, the impact of running was simple: "Track's been my life."