What's Your Mission?
Opinion Story by Alyssa Maddocks
     "Our goal is simple. Our mission is to help people do more good," says Amanda. This is the powerful mission and goal of Mount Vernon community members John and Amanda Rhomberg. In 2014, John and Amanda opened One Mission, a local store in uptown Mount Vernon, completely dedicated to giving back. "One Mission was entirely inspired on my first, and John's second, trip to Haiti in June of 2013. After encountering multiple mission groups, non-profits, adoptive families on that trip – all with the same need to raise funds in order to keep going to Haiti – we started brainstorming ways we could plug in to help," says Amanda.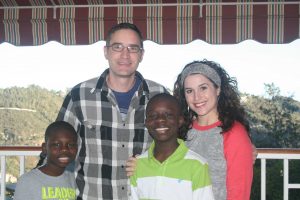 That brainstorming led to the development of One Mission. The store sells custom made apparel, jewelry, candles and soaps, photo canvases, and various forms of artwork. Forty percent of the money spent at One Mission is given directly to a fundraiser of the purchaser's choice. Not only are you buying wonderful and encouraging products, but you are supporting various fundraisers set up by life-changing people and people in need. It truly is the most inspirational win-win situation that you could think of.
     Not only have John and Amanda created a successful and widely influential business, they have decided to adopt two Haitian boys, Nelson and Jackson. "The decision to adopt was easy. John felt a connection to the boys immediately on his first trip to Haiti. Because he loved them so much, so did I. It was 100 percent God, and a feeling that this was the right thing for us," says Amanda. Although the decision to adopt was simple and clear, the adoption process in Haiti was anything but easy. "We entered into the process at the time when Haiti was joining the Hague Convention, which will hopefully help Haiti adoptions in the future. But under Hague law came new systems and requirements and an already inefficient government in Haiti left to figure out how to implement the changes," says Amanda. "The hardest part has been leaving the boys after each trip and to see how much they have grown since we started. They were just little boys when we first met them, and now they are young men."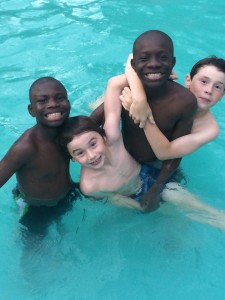 After accomplishing so much in such a short time, John and Amanda feel that they have learned so much throughout these experiences. "I have learned the importance of grasping your faith so tight and holding on. It's not an easy, nor a quick, journey. But I believe that God is the one in control of our lives, and if He gives you the green light, you've just got to put your 'yes' on the table and go for it. He will work out all the details."
     After her 9th trip to Haiti, her family's big decision to adopt two Haitian boys, and the creation of their successful and inspiring business, Amanda holds tight to her favorite memory from these experiences: her first moment meeting the two boys that will soon become members of their family. "My favorite memory is the first time I stepped foot into the guest house in Thomassin, Haiti in June of 2013. The second we opened the door, two rambunctious little Haitian boys ran at us in a dead sprint and leapt into John's arms (they had met him the prior summer). I just bawled. I was "mami" immediately. Never ever had I ever imagined such a scenario. An unexpected gift. That's how I see it."
     The decision for John and Amanda to adopt Nelson and Jackson was easy – but the long wait for the process to be finalized and the boys' arrival has been long and difficult. In the midst of their many trips to Haiti, their long-awaited adoption process, and simply the craziness of life with a soon-to-be family of eight, John and Amanda have put countless hours into the One Mission store. On behalf of the town of Mount Vernon and the hundreds of other people around the world that One Mission has impacted, we say "thank you." Thank you for being such a light in our town. Thank you for being such an inspiration for us all. Thank you for opening our eyes to a part of the world that we may have never been able to experience. Thank you for giving back. And thank you for devoting your lives to something so much greater than yourselves.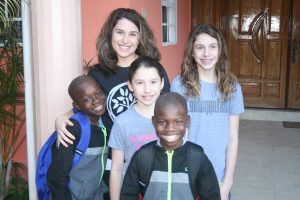 Please check out the One Mission website at www.onemissionfundraising.com or visit their unique and inspiring store at 108 1st St SE in downtown Mount Vernon. You will not regret it!
     If you want to hear more about their story, watch their video at https://onemissionfundraising.com/about-us/.