J-Term Travels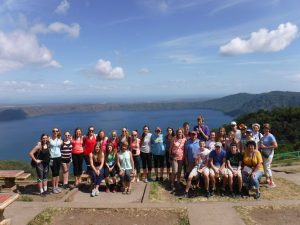 By Laura Adrian
Imagine snorkeling in the clear blue water of a private beach in Nicaragua while your friends tan nearby in the sand and hunt for shells. A pufferfish floats lazily by as you watch a giant eel slither along the bottom of the ocean. This year during J-Term, Spanish teacher Sue Deibner and nurse Linda See took 25 students on a trip to Costa Rica and Nicaragua. While they were there, the students stayed with host families, went exploring, played with children, and sharpened their Spanish skills.
While in Nicaragua, the kids were accommodated by host families, whose presence helped to hone their Spanish-speaking abilities. "Being with these families, they get to know people in the country, and they learn about how people around the world are the same. Family is important wherever you go," said Sue Deibner. The students went ziplining on Mombacho, a dormant volcano in Nicaragua. Mombacho is covered with a beautiful cloud forest, through which they ziplined from platform to platform.
During the trip, the students participated in volunteer activities. Senior Charlie Hunter's favorite was taking kids down to a bookstore and buying them different materials they needed for school. Along with that, the MVHS students visited a school and played with the kids there. They blew bubbles, played soccer and volleyball, and drew with them for the day. "I would definitely go on this trip again, just because it was a great experience. We had plenty of fun, but we learned a ton, too," Charlie said.
Check out the video about the Spanish J-Term created by Clayton Loyd and Macy Griebel in their video journalism J-Term class: