Gym Teacher Shows Her Iron Will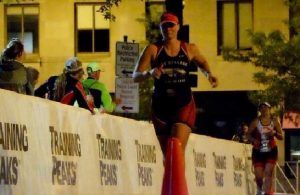 "Chelsee Shortt, you are an Ironman."
Those are the words she hears booming through the night air as she takes her final exhausted steps across the finish line — 16 hours and 12 minutes after the blast of the starting gun. That blast indicated the beginning of a true test of human will and endurance.
The Ironman.
The dream began last October for Shortt, a personal trainer at Anytime Fitness, physical education teacher and middle school track and high school volleyball coach at Mount Vernon. Known by many as a fitness fanatic, Shortt is constantly training for a new test of physical strength and always is eager to share her passion of health and fitness with the youth she teaches. Having competed in many endurance competitions (such as half and full marathons, triathlons and RAGBRAI, to name a few), Shortt decided to add an Ironman to that list — the Ironman Wisconsin.
What is an Ironman? It's a triathlon where athletes test themselves both mentally and physically through 2.4 miles of swimming, 112 miles of biking and 26.2 miles of running. Maybe that would be easy for a superhero like Ironman, but for regular Joes it is incredibly demanding and requires a monumental amount of training. For Shortt, training began in April and continued to the race day on Sept. 13.
In total, she trained for about 20 weeks. Each week she would do a long bike ride, long swim and long run, gradually increasing the distance to better prepare her for the even more extensive race distances. At the peak of her training, before tapering off before the race, a long bike ride would be 100 miles, a long swim would be two miles and a long run would be 20 miles on training days. Her "off days" consisted of recreational activities such as sand volleyball and softball. She also attempted to lift weights, but discovered that she didn't possess enough energy to do that on top of the strenuous endurance training sessions.
On top of that, she also incorporated several races into her training regimen. In June, she competed in a half-ironman which boosted her confidence.
"It really helped establish that I could do this," she said.
She also competed in two half-marathons, the bike portion of a half Ironman, a sprint triathlon, RAGBRAI and a few fundraising bike rides. These helped her get miles into her training, but the real benefit was that they helped defeat boredom. Any endurance athlete knows you can only tolerate your own thoughts and the sound of your breathing for so long. Beautiful scenery and the serenity of the outdoors will only get you so far. You need the companionship of others to get through the pain
Ironman training is no walk in the park. During the hardest parts of training, Shortt admitted the thought "I hate this, I want to be done" would cross though her mind on occasion. However, she persevered, attesting to her positive and go-getter attitude.
Along with physical training, diet also was essential to her training.
"Your body is constantly trying to recover," Shortt said.
Because of this, it was of utmost importance of eat a healthy diet, one full of carbs for fuel and protein to help rebuild the muscles she was beating up with every day of training. Her body was not the only thing taking a beating. During her training, Shortt went through a new pair of running shoes and had to purchase a new swimsuit because her old one was beginning to deteriorate from the amount of time she was swimming.
For many, the miles and hours alone would be enough to make them throw in the towel and call it quits, but not Shortt. After arduous months of training the day arrived when everything she had been working for would be tested.
"It seemed like everyone there was super fit," she said.
But after miles and miles of training, she was too. Waking up at 4:30 a.m., Shortt was at the start with plenty of time before the beginning of the race at 7 a.m. The race began with all 2,500 participants treading water.
"This was the most nerve-wracking part," Shortt said. "I'm not a very strong swimmer."
When the cannon blast finally reverberated through the cool morning air, she pushed all doubts aside and powered through the churning water full of writhing swimmers. The swim passed without incident and Shortt completed the 2.4 mile course in a time of 1:43, beating the swim cut off 2:20.
Cut offs were in place for each section of the race. Failing to beat those times results in the athlete being pulled from the entire race.
Refueling with a Gatorade bottle of apple juice, Shortt hopped on her bike and was off with a long journey of 112 miles ahead of her. The course was "mentally grueling", a hilly beast of a ride. Twice, her bike chain fell off and she had to pause to put it back on. Of course, nature also called so a few bathroom pit stops had to be made. The alternative to this was to urinate while biking. Shortt opted not to do this but said that she had friends who actually practiced the art of urinating on their bike in preparation for when it was necessary during a race. Gross? Well, it depends on the person and how much they want to save those extra few minutes.
Though the ride itself was difficult, the day's weather couldn't have been more perfect. A 68 degree blue-sky day was a blessing. The last 40 miles had a tail-wind that helped gently boost Shortt to the third and final phase of the race — the full on marathon.
Even though she didn't finish the biking in seven hours like she wanted to (she ended with a time of 7:56, beating the cut off 9:30), she had plenty of time to finish the run, seven hours in fact. It was comforting to know she could finish within that time even if she had to walk. She began the run feeling great for the first eight miles.
She soon realized she had made a bad decision early on, at the transition between the bike and the run she had opted not to drink any Gatorade because all the sugar made her queasy. Sugar or no sugar, her body was lacking electrolytes and salt, two things Gatorade supplied and, coincidentally, two quintessential components that the body requires to keep working properly. She realized this mistake soon enough to fix it, however, and downed some chicken broth at an aid station to ease a cramp that was forming in her hamstring.
The running course was a beautiful two-looper, winding by a lake and cutting through the Wisconsin Badgers stadium. The first lap passed with ease since the course was lined with spectators and the sun was still shining. Shortt wore a Coe College Kohawk running singlet, which got quite a few fellow Kohawk alums to give Shortt some much needed encouragement.
The second loop was when things got tough. Positive thoughts were essential. When you're that exhausted, if a single negative thought crosses your mind, you're done.
"I prayed a lot," Shortt said.
When she didn't have the strength to continue she knew God was strong enough to help her. "I can do all things through Christ" and "God is my strength" were her mantras that kept her legs going when she thought they couldn't anymore. While this self-motivation helped, another source was a man who carried a special needs boy the whole race. She and this man played leap frog the entire time.
"That man is amazing," Shortt said, "It was so inspiring and motivating."
Daylight long gone, it was 11:12 p.m. when Shortt completed the Ironman.
"Of course, I cried," she said. "I was just so happy."
The Ironman, and all the sweat and hard work it took, was now just a check off her bucket list and a milestone in her life. It is the longest endurance event she will ever do. In a sense, it is the end of her endurance career, as well. Her next goal is to get stronger and faster in order to have a personal record in the 5K.
"You would be amazed at what your body can do," she said, giving advice to other would-be endurance athletes. "You will be even more amazed at how your mind can get you there. Anything is possible."
That's the will of an Ironman.