Substitute Praises the "Fantastic Seven"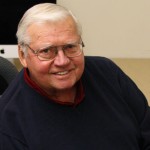 LETTER TO THE EDITOR 3-31-2014
Over the years that I was a high school principal, I always admired and respected the work of the yearbook staff. Here at Mount Vernon High School, you have an exceptional group indeed. While subbing on this date, it became apparent to me that there are just seven students putting all of this together this year.
What it takes to put a yearbook together is monumental. It includes time, organization, patience, personal sacrifice, and expertise to see to it that this lifetime memento is created for posterity.
The next time you see any of these Fantastic Seven (Sarah Boettcher, Laura Deininger, Kelbie Eskelsen, Lexi Kelly, Gabbby Kolker, Maggie Rechkemmer,and Hannah Wieditz) in the halls, tell them how much you admire their hard work. Also tell Mrs. Gage you appreciate her professional efforts.
Live on, Centaur.
-Larry Twachtmann (Mr. T.)