Student Journalists Receive Awards from State Contest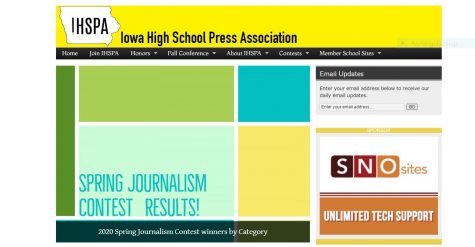 The Iowa High School Press Association released the winners of the Spring Journalism Awards today. There were 1141 entries in the contest.
The contest was open to school newspaper stories, photos, videos, podcasts, and other multimedia that was published between March of 2019 to March 2020.
Mount Vernon is in the Class A competition for small schools. The Mustang Moon placed first in five categories, second in four categories, and third in three categories. The student journalists also were recognized with four honorable mentions.
Results are below with clickable links to the winning entries:
| | | | | | |
| --- | --- | --- | --- | --- | --- |
| Multimedia story – Sports | First Place | themustangmoon.com | Mount Vernon HS | 2019 3A Volleyball State Champion Team Video | Shannon Beck, Lillie Hawker, Kayden Pendergrass, Brady Ketchum, Aidan Nosek, Sara Rhomberg, Sydney Parks, Julia Wheeler, Collin Swantz |
| Podcasting | First Place | themustangmoon.com | Mount Vernon HS | The Mustang Moon Podcast: Episode on Media Literacy | Eli Krob, Lance Eriksen |
| Sports Photo | First Place | themustangmoon.com | Mount Vernon HS | 2019 3A Volleyball State Champion Team Video | Lillie Hawker |
| Staff Editorial | First Place | themustangmoon.com | Mount Vernon HS | Optional Homework is a Bad Idea | Sydney Parks |
| Video story | First Place | themustangmoon.com | Mount Vernon HS | Herbology and Potions J-term Video | Ethan Hall, Devin Brenke, Kylar Benter |
| Multimedia story – Feature | Second Place | themustangmoon.com | Mount Vernon HS | The 2020 J-Term Trip to Europe Slideshow and Podcast | Keaton Dennis, Elijah Exley Schuman |
| News Photo | Second Place | themustangmoon.com | Mount Vernon HS | Ooh, Gross! | Keaton Dennis |
| Podcasting | Second Place | themustangmoon.com | Mount Vernon HS | The Mustang Moon Podcast: CARE Conference | Jasper Rood, Kai Yamanishi, Rafe Pisarik |
| Sports Story | Second Place | themustangmoon.com | Mount Vernon HS | Varsity Quarterback Recovers from Baseball Injury | Sydney Parks |
| Column | Third Place | themustangmoon.com | Mount Vernon HS | Dear Freshmen | Jillian McGuire |
| Multimedia story – News | Third Place | themustangmoon.com | Mount Vernon HS | Science Olympiad Club Off to Strong Start | Lily Cripe, Elsa LaFollette, Michaela Rowell, Addisen Santee |
| News Story | Third Place | themustangmoon.com | Mount Vernon HS | Students Attend Climate Strike | Sara Rhomberg |
| | | | | | |
| --- | --- | --- | --- | --- | --- |
| Podcasting | Honorable Mention | themustangmoon.com | Mount Vernon HS | Convos with Kiddos | Kambree Hultiquist, Diego Torres-Roe, Devon Pirrie, Julissa Govea, Caelan Hunter |
| Podcasting | Honorable Mention | themustangmoon.com | Mount Vernon HS | The Mustang Moon Podcast Debuts with Soccer Chat | Nolan Brand, Reagan Light |
| Video story | Honorable Mention | themustangmoon.com | Mount Vernon HS | E-Sports Video: The Creation of a Team | Eli Krob, Jasper Rood, Kai Yamanishi, Lance Eriksen, Nathan Woods Zach Hartman |
| Video story | Honorable Mention | themustangmoon.com | Mount Vernon HS | Brady Siders: Professional Fortnite Player | Leo Appleton, Adam Deeb, Jack Drahos, Ben Gilbert Binder, Brody Ulch |