The Hidden Equation that is Hurting Football
Hang on for a minute...we're trying to find some more stories you might like.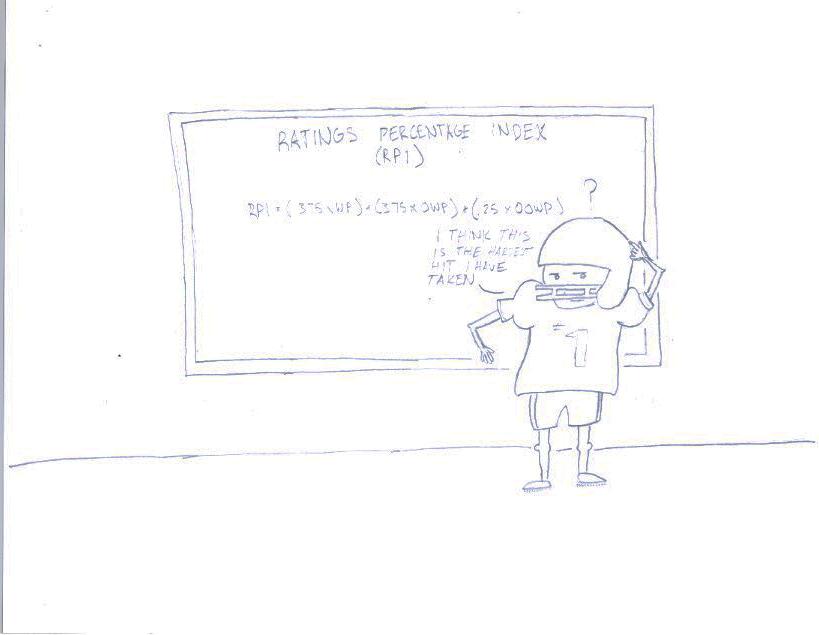 Opinion Story and Cartoon by Caden Eskelsen
In an age where numbers in sports mean a lot, taking into account a team's strength of schedule is smart, but taking into account only a team's strength of schedule is a mistake. The Iowa High School Athletic Association's (IHSAA) Football Ratings Percentage Index (RPI) is a step toward a better playoff system, but that step isn't big enough.
The problem arises when teams schedule tough opponents to make themselves better and then lose. RPI doesn't take into account the score differential which sounds nice, stopping teams from pushing up the score when they already have the win. Score differential should be in the equation as another way to tell how good a team really is. A part of a teams strength can be seen through score differential. There is also no factor in the RPI for small victories, like the last-second play that lifted Mount Vernon over West Delaware. Obviously that win was taken away but it was a great game against a great opponent. Mount Vernon is a great team with a losing record because they chose to schedule challenging non-district games. I'm not just saying that Mount Vernon is good because they are my team, they have proven themselves with wins over district and non-district opponents. But look at the RPI index and you will see they are ranked 18 spots below Tipton, whom they beat by 60 points. There is something wrong there!
Teams' seasons are getting cut short because RPI doesn't favor the bold. Playoff hopes for teams could be dashed because they come up just shy of the district champion spot (which is the only guaranteed trip to the playoffs). The other playoff spots are filled based on RPI ranking and if a team has a bad full-season record they will be further down the rankings. There are many other things RPI could take into account such as point differential, passing yards, road wins and tackles. The IHSAA shouldn't have started using RPI until they could take into account everything that makes a team great. Getting the best picture of every team with a more detailed equation would provide more accurate rankings. All any team wants is a fair shot at the playoffs and a better ratings system could fix that.